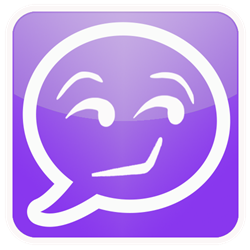 "Most texting apps have artwork or a solid platform, we have both..."
Encinitas, CA (PRWEB) May 08, 2015
From "when pigs fly" to "cranky old man," Ironicons' images give users a vastly expanded digital vocabulary that steps far away from yawn-inducing stock emoticons. With hundreds of Ironicons to choose from – including more than a dozen hand gestures – users can finally give a graphic middle finger to an ex, send a "hang ten" to surf buddies or flirt with wild abandon.
"In developing this app, we wanted our users to be able to accurately convey what happened during a fun night on the town without writing it all out in a text. With 'more pics, fewer words' as inspiration, our artists created everything from mix-and-match body parts to 'yoga' poses, moods and facial expressions, sports and pop culture emojis, favorite food and drinks and images that are sure to make you blush," said Ironicons co-founder, Kelly O'Donnell. "We've also programmed the ability to make your own Ironicons for limitless self-expression."
The design improves on the functionality of most texting apps and offers true customization. If the user has an inside joke with friends or an image they simply have to have, they can turn their own photos or drawings into custom emojis or selfie emoticons by downloading any transparent png file and following simple directions.
Other built-in features include a pin drop location finder, voice texting with read back, pop-ups for new messages and the ability to hide images until the user can view them in a discrete location with a #NSFW (not safe for work) feature. With the touch of a finger, users can also create groups and personalize contacts by a photo, text bubble color, LED light and sound. Ironicons does all this while delivering seamless background SMS or MMS and free messaging via the web among users.
"Most texting apps have artwork or a solid platform," said O'Donnell. "We have both and are committed to continually upgrading the app and offering fresh images to reflect what's trending, what users are asking for and by following our own whims."
Users are already weighing in with their opinions, with one fan leaving this feedback on the Google Play Store after the recent soft launch: "The best text replacement app on the market!! – Slick, smart, sexy and super creative. There is an emoji for everything you can possibly imagine… and if there isn't, the app allows you to make your own permanent emoticons!"
About Ironicons
Ironicons was created by Ironicons App, LLC, an Encinitas-based web and mobile development company, to revolutionize the texting world. The company was founded in 2014 by Kelly O'Donnell, Will Poitras and Alain Dussaud. More information about Ironicons, its innovative texting style, or how to get it from the Google Play Store can be found on http://www.ironiconsapp.com. Follow Ironicons on Twitter: @ironiconsapp and Facebook at http://www.facebook.com/ironiconsapp