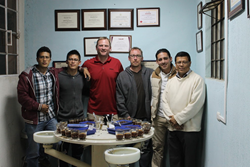 During this 10-day trip, we discovered incredible new coffees that are now on their way to our Columbus roasting facility. We also met our goal of forging relationships with more small coffee farmers.
Columbus Ohio (PRWEB) May 07, 2015
Coffee buyers from Ohio coffee roaster Crimson Cup Coffee & Tea recently traveled 8,000 miles through four Central American countries to seek out great coffees and create direct-trade relationships with coffee growers. Founder and President Greg Ubert and Coffee Buyer Dave Eldridge visited coffee growers in Mexico, Guatemala, Honduras and Nicaragua.
"During this 10-day trip, we discovered incredible new coffees that are now on their way to our Columbus roasting facility," Ubert said. "We also met our goal of forging relationships with more small coffee farmers."
Through its Friend2Farmer direct trade program, Crimson Cup works hand-in-hand to develop better coffee and a better quality of life for coffee farmers, their families and their communities. "By paying above-market prices directly to growers, we give them more money to reinvest in their communities," Ubert noted.
The team visited a dozen farms. "We cupped tons of coffee and got very little sleep," Eldridge recalled. "We were humbled by the hospitality we received from farmers and impressed by the quality of their coffee."
In Oaxaca, Mexico, the buying team visited several co-ops, including woman-owned Coordinadora Productores de Cafe de la Sierra Norte from the town of Juquila Vijanos.
"Their coffee is known in the region as 'God's Coffee' – and for good reason," Eldridge noted. "We're eagerly anticipating arrival of this coffee in mid-May."
From Mexico, the team flew into Guatemala to visit friends Manuel and Jorge DeLeon Ovalle, brothers who recently won first and second place in Guatemala's cupping championship. The brothers were preparing for the upcoming world championships by cupping coffees from every region of Guatemala. Ubert and Eldridge participated in the cuppings, and then visited farms with the highest-scoring coffees. Crimson Cup expects to receive several micro-lot coffees from these farms later this spring and summer.
"We also finalized the purchase of two containers of coffee from the small town of Olopa in southern Guatemala," Eldridge said. "They had never met roasters before, which is often the case during our travels. Our buying 80,000 pounds of coffee at an above-market price will make a big difference to their community."
From Guatemala, Eldridge traveled to Honduras, meeting Stephan Erkelens from Axiom Coffee Ventures before driving south to meet the growers of Cafes Especiales El Paraiso. "We cupped 13 different samples from 13 growers. They all held up, but one stood out, and we will have it available early this summer."
After sharing a community dinner, the El Paraiso growers dropped Eldridge and Erkelens off at the Nicaraguan border. They walked across the border, and then attended several meetings with growers and co-ops that evening and the following day. "Many of the coffees were excellent, but unfortunately they had sold for a sadly low price to some of the world's largest exporters," Eldridge said. "When we return next year, we'll be able to offer a higher price for exceptional coffees."
Crimson Cup expects to reap the results of this buying trip over the summer months as harvested and processed coffees arrive in the company's new roasting facility in Columbus, Ohio.
"Once the beans arrive, we'll spend a few weeks roasting and cupping to create an optimum roast profile that highlights their origin characteristics before offering them for sale," Eldridge said. "Our goal is to showcase the farmers' hard work by bringing out the best in each bean."
About Crimson Cup Coffee & Tea
Since 1991, Crimson Cup Coffee & Tea has hand-roasted specialty coffee in Columbus, Ohio and taught independent business owners how to be successful through its coffee shop franchise alternative program, which includes a coffee shop business plan template. Sustainably sourced Crimson Cup coffee is available through a network of more than 350 independent coffee houses, grocers, college and universities, restaurants and food service operations across 29 states, as well as the company's own Crimson Cup Coffee House in the Columbus suburb of Clintonville. For more information, visit crimsoncup.com.