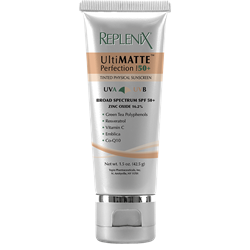 NORTH AMITYVILLE, NY (PRWEB) May 07, 2015
Topix Pharmaceuticals, Inc. introduces Replenix® UltiMATTE™ Perfection SPF 50+ – a luxurious, skin enhancing make-up base with superior broad spectrum UVA/UVB protection, all day oil control and age defying antioxidant benefits.
Formulated with 16.2% micronized zinc oxide, to cover the broadest range of the UV protective spectrum, this SPF 50+ skin perfecting cream helps fight photo damage, which leads to premature skin aging. Additionally, this breathable sunscreen refines the look of skin providing a sheer, healthy touch of color, concealing imperfections and blending naturally to minimize the appearance of fine lines, wrinkles and pore size.
Featuring innovative Universal Pigment Technology, this next generation BB cream combines Iron Oxide with an advanced light-diffusing pigment that blends with all skin tones. Ceramide 2 and Phospholipids support the skin matrix providing an all-day mattifying agent along with gentle hydrating benefits for even the most sensitive skin. These powerful ingredients work to keep skin supple and firm, enhancing the delivery and exchange of lipids resulting in intensified moisturization and protection.
To round out this multi-tasking tinted sunscreen, Replenix® UltiMATTE™ Perfection SPF 50+ is infused with Green Tea Polyphenols, a signature of the Replenix® brand, to combat environmental damage and nourish the skin. A powerful blend of antioxidants including Resveratrol, Biotin, Co-Q10, Emblica, Centella Asiatica and Vitamin E help to calm and soothe the skin while absorbing free radicals and supporting a healthy skin structure. Ascorbic Acid (Vitamin C) adds brightening properties helping skin appear more radiant and toned, reducing the appearance of age spots and uneven skin tone.
Free of chemical absorbers and paraben, oil, gluten and fragrance free, Replenix® UltiMATTE™ Perfection SPF 50+ is great for all skin types including post procedure and those with sensitive skin. Perfect when worn alone or as a makeup primer and recommended for daily use as the last step in every skin care regimen.
For more information, please visit http://topixpharm.com or call 1-800-445-2595.