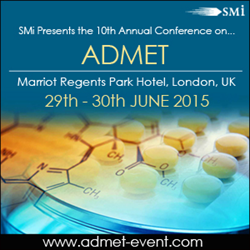 London (PRWEB UK) 11 May 2015
SMi's 10th annual ADMET conference will provide essential insight into the latest novel technologies being used in the field of Predictive Toxicology and ADME/Tox. With drug induced liver and Cardiotoxicity still being major causes of drug attrition rates, the programme will feature case studies on development of human cellular models and state-of-the-art in vitro used to assess toxicity.
Renowned industry expert Mario Monshouwer, Senior Director Drug Metabolism Pharmacokinetics & Bioanalysis at Johnson & Johnson will be presenting on: Exploratory ADME in preclinical and clinical studies to guide and accelerate clinical development on day 1, he will be discussing; the value of mechanism based drug disposition to drive decision making; the role of humanized mouse models to obtain mechanistic insights on pharmacokinetics and Including microtracers and endogenous markers for CYP3A4/5 during phase 1 studies
Expert speaker panel for 2015 includes: Araz Raoof, Head Scientific Affairs & Analysis, Janssen Pharmaceutical, Professor Ian D. Wilson, Professor of Drug Metabolism, Imperial College London, Laurent Salphati, Senior Scientist, Genentech, Thierry Lave, Global Head DMPK & Tox Project Leaders and Modelling & Simulation, F. Hoffmann-La Roche, Peter Clements, Director of Pathology, GSK, Stephen Fowler, Group Leader, In Vitro ADME, F. Hoffmann-La Roche, Franck Atienzar, Associate Director In Silico In Vitro Toxicology, UCB BioPharma SPRL, Peter Hoffmann, Executive Director, Pre-Clinical Safety, Novartis Institutes for BioMedical Research, Mario Monshouwer, Senior Director Drug Metabolism Pharmacokinetics & Bioanalysis, Johnson & Johnson
The conference will draw focus on: Progresses in AMDET-enabling technologies, Human ADME studies and challenges with standardisation, Emerging assays to monitor cardiotoxicity, Lead optimisation of PK/PD modelling, In Silico modelling techniques, Drug-Drug interaction, Learn new strategies of optimising in vitro/ in vivo extrapolation, Translation issues of animal-derived metabolic results to predict human drug metabolism, Emerging assays to monitor cardio toxicity and hepatotoxicity, Regulatory guidelines on safety and toxicity risk assessments.
In addition to the event there will be an interactive post conference workshop taking place on the 1st July 2015 entitled: ADME(T) Strategies for Pharmacological Space Beyond Ro5 and Eukaryotic Enzyme Inhibitors, hosted by Constance Höfer, Chief Development Officer, Priaxon AG
ADMET is proudly sponsored by: Corning Life Sciences & Sigma-Aldrich
A brochure with a full list of speakers and presentations is available to download online. For further information or to book a place, visit Marriott Regents Park Hotel, London, UK
http://www.admet-event.com/prweb
Delegate enquiries: Contact Magdalena Georgieva on +44 (0)20 7827 6148 or email mgeorgieva(at)smi-online(dot)co(dot)uk
10th Annual ADMET conference
29th & 30th June 2015
Marriott Regents Park Hotel, London, UK
http://www.admet-event.com/prweb
--------------- END ---------------
About SMi Group:
Established since 1993, the SMi Group is a global event-production company that specializes in Business-to-Business Conferences, Workshops, Masterclasses and online Communities. We create and deliver events in the Defence, Security, Energy, Utilities, Finance and Pharmaceutical industries. We pride ourselves on having access to the world's most forward thinking opinion leaders and visionaries, allowing us to bring our communities together to Learn, Engage, Share and Network. More information can be found at http://www.smi-online.co.uk