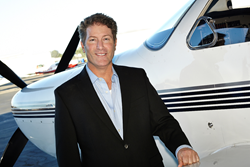 I consider my tablet as a backup and we know that when things fail in a plane it's great to be ready
San Diego, California (PRWEB) May 07, 2015
Modern aviation technology for pilots and aircraft streamlines what used to take hours to accomplish, but the human element still needs to be involved, even with the superior mobile app that Jeppensen provides. DeLaurentis, a seasoned pilot who has flown solo to many places around the world with another 22 country trip starting on May 18th of this month, believes that proper planning on American Airline's part could have helped prevent the delays.
Commercial airlines and pilots can learn from the mobile mishap, which was reported on by the Dallas Morning News on April 28th, and have a backup plan in place. Flying Thru Life, DeLaurentis's vision, seeks to provide a life lesson in a recent commentary where he explains to his readers how the American Airlines incident can be used in all facets of our lives, not just aviation.
"I coincidentally also use Jeppesen software and charts on my iPad as well as Jeppesen data on my Garmin G500 primary flight display and Garmin GTN 650 GPS," DeLaurentis states. "I consider my tablet as a backup and we know that when things fail in a plane it's great to be ready. Jeppesen has a great reputation as an industry leader and has transformed the way the world moves. However software and hardware being what it is, we can anticipate there will be problems."
In an article by attorney, Tristan Meears-White, from the U.K. legal firm, DWF, Meears-White wrote, "The most effective crisis management takes place before a problem arises." He points out that being open and honest aids in the process of crisis prevention. "Some of the biggest potential crises have been identified and dealt with at an "incubation" stage."
Robert DeLaurentis will release his book, Flying Thru Life, after his return from his solo trip, circumnavigating the world. He is a sought after speaker, pilot, and entrepreneur who brings encouragement and wisdom through his writings and talks. Flying Thru Life has quickly become a premier resource for private pilots and businesses and is recommended by clients at MMOPA, AirVentures, MOAA, and Big Bear Airport Pilots Association.
For more information on Robert DeLaurentis and to book a speaking engagement, please contact Robert at FlyingThruLife.com for more information.