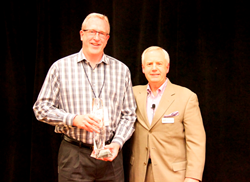 My dad would have unquestionably been an enthusiastic supporter of Dan's selection as the 2014 Best Businessperson
Charlotte, NC (PRWEB) May 07, 2015
The SEN Design Group announced earlier this month that Dan Luck, President of Bella Domicile in Fitchburg, WI, was selected as the eighteenth recipient of the M. A. Peterson Best Businessperson of The Year Award. The award was presented during the organization's National Spring Conference before a gathering of 250+ kitchen and bath dealer members and manufacturing partners at the Hyatt Regency Hotel in downtown Denver, Colorado.
Luck was recognized for his ability to see the benefit of an industry-specific management operating system while in its early stages of development, and became a strong advocate and instructor for the ground-breaking program, Network Management System (NMS). Additionally, Luck demonstrated excellent leadership support for the group's vendor partners while tapping virtually every asset that SEN offers to enable his company to achieve superior customer service. This was the second time that Luck was honored as the group's most outstanding businessperson, having also won the award in 2005.
"In Dan Luck, I see many of my father's qualities such as a strong, ethical character, a deep regard for his team members, the willingness to embrace new advances like NMS, and a firm commitment to always deliver genuine value to his clients. My dad would have unquestionably been an enthusiastic supporter of Dan's selection as the 2014 Best Businessperson," commented Ken Peterson, CKD, President of SEN Design Group.
The award is named in honor of Peterson's father who made some notable contributions to the kitchen and bath industry during his 30-year career. In 1963, M. A. Peterson helped establish the industry's leading trade organization, the National Kitchen & Bath Association (NKBA), served on its Board of Directors for many years, was honored as the world's first Certified Kitchen Designer (CKD), and inducted into the Industry Hall of Fame in 1988 - its inaugural year. The SEN Design Group makes this award annually in memory of M. A. Peterson who died in March of 1997 at the age of 94.
Other notable award recipients for 2014 included Robert Amberg of Certified Kitchens in Edison, New Jersey as Member Newcomer of the Year, Silestone by Cosentino for Vendor Partner of the Year, Hardware Resources for Silver Vendor Partner of the Year, and WoodTrac by Sauder as Vendor Partner Newcomer of the Year.
About SEN Design Group
The SEN Design Group is the industry's first kitchen and bath buying and business development group. As an 21-year-old professional organization, SEN has over 215 members nationwide and more than 75 quality vendors in cabinetry, appliances, plumbing fixtures, decorative hardware, closets, lighting, bathroom products, flooring, tile, business services and accessories who offer their products/services to the membership at group rates. Additionally, SEN offers over 40 business development services to its membership, including financial planning, business coaching, business management training, sales training programs, marketing tools to generate leads, networking, and the new, ground-breaking management technology specifically designed for the kitchen/bath industry known as NMS. For more information on SEN, please visit http://www.sendesigngroup.com.