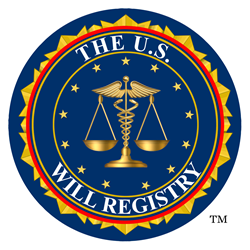 Washington, DC (PRWEB) May 28, 2015
Losing track of a deceased family member's Last Will and Testament can be a devastating and costly problem for the surviving family. A myriad of issues arise from a misplaced will, including the assumption that there was no will in the first place or the potential that an older Will which does not express your updated intentions is used.
Today, The U.S. Will Registry (http://www.WillsUS.com) is offering an easy way for attorneys and their clients to access a national database to trace information regarding the location and holder of Last Wills and Testaments. (The U.S. Will Registry database does not store a copy of a Will).
In addition to assuring that your client's wishes are being fulfilled as intended, the other key benefit for attorneys to register their clients' Wills through The U.S. Will Registry is the ability to help grow the attorney's probate practice. If the attorney who wrote a Will can be identified through The U.S. Will Registry, then the attorney has created another opportunity to invite a deceased clients' family members back into the office to assist in all the probate matters.
It is completely free for attorneys to create a profile page and register their firms and clients with The U.S. Will Registry.
Another innovative feature offered by The U.S. Will Registry is a Missing Will Search. If a search is made for a Will and the Will is not found on the registry, then a notification is emailed to all registered attorneys. This notification serves to alert attorneys to check their files to see if they are the Attorney who prepared the Will. A record will remain in the Missing Will database, which attorneys can check for families searching for a will. This convenient connection between attorneys and beneficiaries is a first for the industry!
The U.S. Will Registry is seeking to "catch up" with all past Wills by allowing Attorneys free client registrations! By creating the most encompassing database possible, it is quick and easy for clients and attorneys to locate a Will that is most current or has been misplaced or forgotten.
About The U.S. Will Registry
On April 29th, The U.S. Will Registry (http://www.WillsUs.com) had the opportunity to meet with the American Bar Association at their annual session for their Real Property, Tax and Estate division. Plans to continue to meet and promote the national registry with each state bar association to encourage attorneys who have prepared Wills and Trusts for their clients to register as soon as possible. Again, complimentary registration for attorneys and clients is now being offered.