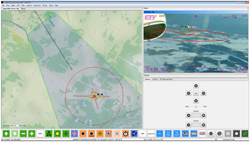 Our customers still have input into deciding what suits them best, and we can adapt our courses to their specific needs
Halifax, Nova Scotia (PRWEB) May 07, 2015
CarteNav Solutions Inc. (http://www.cartenav.com) has announced the graduation of their 100th student from their specialized training courses.
Founded in 2002, CarteNav quickly established itself as an industry leader in the development of sensor and mission management software solutions for government, military, and commercial clients around the world.
To help get the best use out of the software, CarteNav created a range of training courses to suit the varying needs and the diverse missions of their customers.
"With over 150 software installations in 17 countries on more than 25 different platforms, from aircraft and ships to land vehicles, we needed to come up with a way of helping each customer get the most from their investment" said Will Taylor, CarteNav's chief instructor.
CarteNav began offering formal training courses in 2012 to coincide with the release of their COTS product, AIMS-HD.
"We had completed some training before this as some customers had requested it, but this milestone marks the 100th graduate of our formal course packages," continued Mr. Taylor.
A number of different courses are available, ranging from a one-day Familiarization Course, through to a comprehensive Operator and System Administrator Course, which can include airborne training if required. The customer can choose an appropriate entry point and each course builds on experience and learning gained on earlier courses.
Mr. Taylor concluded "Our courses are structured in such a way so that the customer can get the best results from their training. Even though we have designed specific course packages, our customers still have input into deciding what suits them best and we can adapt our courses to their specific needs."
Mr. Scott Richardson, Vice President of Sales and Service, said "We have consistently received very good feedback on our training, and we continue to develop and invest in this line of service".
CarteNav Solutions Inc. is an international leader in situational awareness software solutions for the airborne, land, and maritime environments. Founded in 2002, CarteNav offers operationally proven sensor integration and display technology that dramatically improves performance of both sensor operators and tactical decision makers. The company has established a reputation for providing high-value solutions that can be deployed on a wide variety of platforms for multiple mission types for government, military, and commercial customers.