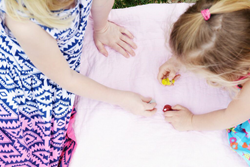 Wheaton, Illinois (PRWEB) May 06, 2015
RPS Revolution - a game for the whole family with a new take on the tried and true Rock Paper Scissors game - is now taking pre-orders via Kickstarter.
With fun characters that encourage storytelling and easy to learn rules from Rock Paper Scissors, families can now pre-order the new twist on an old favorite. RPS Revolution takes the best parts of Rock Paper Scissors and transforms it into whimsical characters that are grouped in set of three called Trios. Trios like a Knight, Princess, and a Dragon encourage kids to create fantastical stories surrounding their characters as they play. Each player holds three characters in their hand and then either secretly picks one or lets one fall out of their hand surprising both them and their opponent. Each character has either an R, P, or S on the bottom to remind the players of who beats what in each game.
RPS Revolution is a game with maximum fun and minimal set up. This means RPS Revolution is compact and can go anywhere, providing entertainment at parties, car rides and even the pediatrician's office.
RPS Revolution can also determine family decision making moments that matter: like who gets the last slice of pizza, or who gets to ride shotgun to baseball practice.
Simple rules means everyone can play from kids to adults:

At only $15 per set of 2 Trios plus shipping per trio, RPS Revolution won't break the bank.
There are several amazing trios with all kinds of themes planned and kids can collect and be creative.
RPS Revolution encourages storytelling and imagination.
Bonus: Solve family dilemmas quick and easy (and with a little fun!).
RPS Revolution was developed by a mompreneur who realized that her kids loved new toys and games that were easy to get the hang of, and had a trading element to them. She saw how her kids liked trading cards, but didn't always get how to play them and she started thinking of ways to create a fun and easy game that could feature tradable characters at the same time. Together with her husband and three kids, they brainstormed some ideas for games that everyone would love and RPS Revolution was born. After discovering Kickstarter, they realized this was the perfect way to make their dream into a reality and have launched a Kickstarter Campaign to bring RPS Revolution to families everywhere. Whether a family is looking for a new way to enjoy game night, or a fun way to decide who has to clean the kitty litter, RPS Revolution is a great solution.
Pre-orders can be made on the RPS Revolution Kickstarter page.
For more information visit http://www.rpsrevolution.com or contact Chelsea(at)ChicBlvd(dot)com.
Contact:
ChicExecs PR
http://www.chicexecs.com
1487 Poinsettia Ave. Ste. 125
Vista, CA 92081
310.569.6586
ChicExecs PR is an "out of the box" PR company which represents over 70 clients. ChicExecs has created an innovative approach to PR dedicated to helping small-medium businesses receive media coverage. Our revolutionary automated system is changing the face of PR.