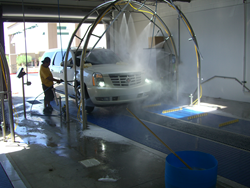 Automated car washes command nearly 72% of the market. Nearly 40 gallons are used to wash each vehicle.
Salt Lake City, Utah (PRWEB) May 12, 2015
The automated car wash is the number one method that vehicle owners prefer when it comes to washing. They command nearly 72% of the market. According to the International Carwash Association in 2014, the average water consumption rate in an automated car wash is double that of a self-service wash bay. This equates to nearly 40 gallons of water for each vehicle. Automated wash bays typically have forced-air dryers, which help alleviate water carry off, and evaporation. Because self-service bays do not have forced air dryers, the estimate for evaporation is 20-30% of the water used in the wash, however, water use in self-serve bays equates to only about 20 gallons. Situations like the California drought dictate that change must happen somehow.
Hydro Engineering Inc.'s Hydrokleen wastewater filtration systems are the water saving solution for any type of carwash facility. The patented Hydrokleen system is designed to take 100% of all collected wash water, filter it, eliminate odors, and re-circulate the water back into the existing washing system. Whether that system is a manual wash wand or an automated wash bay, the only fresh water required is for the final rinse to remove the recycled water used for washing from the vehicle.
The filtration process starts by first settling out all of the heavy solids like rock and coarse sand. Next, the free floating and emulsified oils are removed. The remaining fine particles are filtered out which can bring the particulate ratio down to less than five microns nominal, and finally, all pathogens and any remaining organics are consumed by the patented Biodigesters. From here, the filtered wash water is ready to be reused in the wash process.
For a carwash, this typically means that the 20,000-60,000 gallons used each day to wash vehicles can stay in the system indefinitely, cutting the water bill into a fraction of what it once was. Furthermore, since the water being purchased has been greatly reduced, the sewer bill will also go down substantially. This is especially handy in drought stricken regions of the United States where water restrictions are mandated.
The Hydrokleen water filtration and recycling system is completely above ground, meaning that no additional construction is necessary in order to get this system operational. All that is required is an interception point in the existing washes water collection and disposal sump, a fresh water makeup supply and power hook ups.
Hydro Engineering Inc. is certified to ISO9001-2008 and with our ongoing quality management system and over 35 years of experience in washing, collecting, and wastewater recycling, Hydro Engineering Inc. has the answers for water savings.
Contact the Experts at:
Hydro Engineering Inc.
865 W 2600 S
Salt Lake City, UT 84119
800-247-1181
http://www.hydroblaster.com