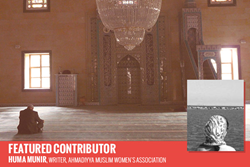 The Islamic world today is a realm of complex and diverse beliefs. While it may be true that Islam is a guiding source in shaping the cultures of Muslim societies, it doesn't mean that all Muslims follow the same traditions.
San Francisco, CA (PRWEB) May 06, 2015
Huma Munir is the latest 'Featured Contributor' on WorldReligionNews.com. Huma was disturbed to read the March 22, 2015 article New York Post article wherein Somali-born American activist Ayaan Hirsi Ali referred to all Muslims as "rotten apples." In her recent World Religion News 'Featured Contributor' article, published May 4, 2015, Munir admits to a multitude of challenges facing the Islamic world such as extremism in the broader world and sectarian violence within Muslim communities while making her point that unless we look into the hearts of all Muslims, we cannot conclude that the entire Islamic world is based on a foundation of a corrupt ideology.
Read Huma Munir's WRN 'Featured Contributor' article here: http://www.worldreligionnews.com/religion-news/islam/opinion-ayaan-hirsi-alis-arguments-against-islam-are-fallacious
WorldReligionNews.com has established its 'Featured Contributor' program to offer writers officially affiliated with the world's faiths and belief systems, as well as independent writers, bloggers, journalists and authors of note, a public platform from which to publish religion focused articles that will reach not only WRN visitors but also appear via third party content syndication partners on sites like CNN, FOX, New York Daily News and others.
If you are an officially affiliated spokesperson/writer for a particular religious organization or, a prominent writer, blogger journalist of note who would like to be considered for a 'Featured Contributor' article placement on WRN, contact us here: http://www.worldreligionnews.com/guest-blogger-submission/.