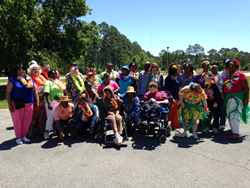 Albany, Ga. (PRWEB) May 08, 2015
Easter Seals Southern Georgia Day Solutions program hosted a luau at Georgia Veterans State Park. Everyone dressed up in their best luau outfit and headed to the picnic ready for fun. They traveled from the five Day Solutions centers, located in Vienna, Cordele, Tifton, Leesburg and Albany. Everyone enjoyed playing volleyball, horseshoes, and a picnic lunch. A few even danced the luau and gathered shells.
Easter Seals Solutions Day Program ensures that people with developmental disabilities experience valued roles in the community by providing services and training that supports individual choices and opportunities.
Easter Seals Southern Georgia creates solutions that change the lives of children, adults and families with disabilities or special needs by offering a variety of programs and services that enable individuals to lead lives of equality, dignity and independence. For more information, call us at (229)439-7061 or visit us online at: http://www.southerngeorgia.easterseals.com