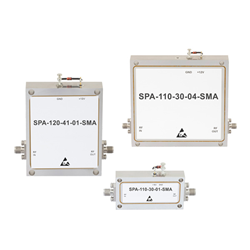 The addition of these new X band amplifiers shows our commitment to our customers to continually offer component solutions that the market demands
Allen, TX (PRWEB) May 07, 2015
Fairview Microwave Inc., a supplier of on-demand microwave and RF components, introduces a new family of coaxial LNA and high power X band amplifiers. These RF amplifiers are commonly used in front end receivers and as driver amplifiers or high power output amplifiers for applications in X Band such as commercial and military radar systems, satellite communication systems, terrestrial communications and networking, medical accelerators, and test and measurement setups.
These new X band amplifiers from Fairview Microwave exhibit high gain and are perfectly suited for high linearity applications with frequencies that cover 8 to 12 GHz. Gain levels range from 30 to 41 dB over a temperature of -30°C and +70°C. The excellent gain flatness of these high gain amplifiers ranges from ±0.50 dB to ±1.0 dB and the IP3 output performs up to +45 dBm. Fairview's new low noise amplifier model exhibits a competitive noise figure of 2.2 dB and the RF power amplifiers are offered in 1 Watt and 4 Watt designs depending on the configuration.
Fairview's new X band LNA and power amplifiers are packaged inside hermetically-sealed metal enclosures and exhibit outstanding performance for low noise, high gain, gain flatness, high linearity and wide dynamic range. This excellent performance is achieved by using hybrid microwave integrated circuit designs and advanced GaAs pHEMT technology. The connectorized SMA amplifier modules are unconditionally stable and include built-in voltage regulation, bias sequencing, and reverse bias protection for added reliability. These RF amplifiers have over-voltage protection that's installed externally for easy repair.
"The addition of these new X band amplifiers shows our commitment to our customers to continually offer component solutions that the market demands," explains Brian McCutcheon, Vice President and General Manager at Fairview Microwave.
The new coaxial X band high gain amplifiers from Fairview are in-stock and available now. You can view the entire line of these new products by visiting http://www.fairviewmicrowave.com/rf-products/x-band-gaas-phemt-mmic-based-lna-and-high-power-coaxial-amplifiers.html directly. Fairview Microwave can be contacted at +1-949-261-1920.
###
About Fairview Microwave
A leading supplier of on-demand RF and microwave products since 1992, Fairview Microwave offers immediate delivery of RF components including attenuators, adapters, coaxial cable assemblies, connectors, terminations and much more. All products are shipped same-day from the company's ISO 9001:2008 certified production facilities in Allen, Texas.