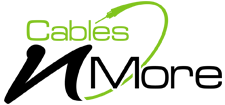 We want our customers to be able to access our site no matter where they are.
Quakertown, PA (PRWEB) May 12, 2015
Cables N More, a leading online purveyor of computer and electronic accessories, is now easier to use than ever. The company, which features thousands of computer-related products, has just upgraded its site's functionality to offer seamless browsing on virtually all mobile devices. Says George McDowell, "We want our customers to be able to access our site no matter where they are." "We understand that you sometimes need our products when you're on the road or working offsite. We want to make ordering while you're on the go easy."
Cables N More's new "responsive" website automatically adjusts to whatever screen size a customer is using. Says Jeramie Cavanaugh, "We don't want our customers to have to take extra time or make extra key strokes just to be able to view our products and place an order via their smartphone, tablet computer or other mobile device. With our new, enhanced site, you won't notice a difference, no matter how you access our site."
About Cables N More
Founded in 1993 with a single Washington DC area store, Cables N More has grown to be a world-wide retailer of electronic accessories, with a huge corporate headquarters and distribution warehouse in Pennsylvania and several satellite distribution centers scattered around the United States. The company, one of the first to offer computer accessories and cables via the web, has expanded its product line over the years to also include card readers, mounting hardware and devices, audio visual cables and accessories, microphone cables and instrument cables. There's also a clearance section with prices reduced by 80 percent or more.
Cables N More offers same-day shipping on all orders, a flat $2.99 shipping rate for orders under $50 and free shipping on orders of $50 and more. Cables N More offers a satisfaction guarantee and accepts returns, for any reason, for up to 60 days.