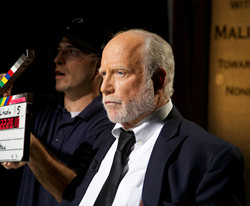 "I was standing in the hallway of a grammar school in Georgia... The walls were covered with kids' version of the Second Inaugural, and other aspects of Lincoln's life. I realized, what an astonishing magic act he pulled! -Richard Dreyfuss
Washington DC (PRWEB) May 07, 2015
What was President Abraham Lincoln's greatest speech? To further commemorate the 150th anniversary of Lincoln's assassination and end of the Civil War, a premiere screening of the hour-long documentary Lincoln's Greatest Speech will be shown on May 16 in Washington, D.C., as part of the three-day Lincoln Legacy Symposium presented by the Smithsonian Institution.
The showing will take place at the New York Ave. Presbyterian Church in Washington, where Lincoln attended services while a Congressman and President.
Lincoln's Greatest Speech is the brainchild of Emmy Award-winning producer-director Kenneth Kebow. Hosted by Academy Award-winning actor and avowed U.S. historian Richard Dreyfuss, it features Dreyfuss' reading of Lincoln's Second Inaugural, followed by a discussion with Ronald C. White, bestselling author of Lincoln's Greatest Speech and A. Lincoln.
Even though the speech was only 701 words and took just six minutes for Lincoln to deliver at the U.S. Capitol on March 4, 1865, its content continues to resonate powerfully to this day.
"Was it his best speech? First of all, he says it was 'my best speech," said White, who will also be speaking at the premiere screening. "Those were his words. Then he receives a congratulatory note from Thurlow Weed, a Republican politician. Eleven days later, he writes a letter to Weed, and reiterates, 'I believe it's my best effort.' So we'll start with his affirmation.
"Without any deregation of the Gettysburg Address, I'd say it's a far more comprehensive statement, offered at the end of the war, where he states that the war is really about slavery. Secondly, even though he is assassinated 41 days after the speech, he is looking forward to a second term, so this is kind of his suggestion of what that second term will be about: reconciliation," he added.
The documentary came together like many chronologs, a combination of strong planning and serendipity. Kebow had the idea in his mind, but after watching a presentation by White, he began assembling the pieces to create the program. "I contacted Ron shortly after seeing his presentation," Kebow said. "He was kind enough to agree to do a television program about Lincoln's speech. Through a series of events, Richard enthusiastically agreed to be a part of the project."
As Dreyfuss (Jaws, Close Encounters of the Third Kind, Mr. Holland's Opus) recalls, the project dropped on his lap while he was fulfilling one of his long-held passions — talking to students about American history. "I was standing in the hallway of a grammar school in Georgia," he said. "The walls were covered with kids' version of the Gettysburg Address, the Second Inaugural, and other aspects of Lincoln's life. I was waiting for my cue to go on, to talk to the kids, and I was again reading the Second Inaugural. All of a sudden, I realized, what an astonishing magic act he pulled! He never said, 'We really kicked their ass, didn't we?'"
"After reading the speech again, I gladly said 'Yes' to be a part of this documentary."
Lincoln's Greatest Speech wraps around Lincoln's Second Inaugural, also his final public address, which Dreyfuss delivers with a tone and cadence similar to the president's. The program breaks down both the speech and its historical setting, and Dreyfuss settles into an interview and discussion with White to further draw out the speech's historical significance and modern-day takeaways.
One of Kebow's warmest moments while developing the documentary was watching the instant interaction between Dreyfuss and White, who had never previously met. "They immediately had a great rapport and common ground. This carried through to the time they also spent together on-camera," Kebow recalled. "The discussion between Richard and Ron was completely unscripted. I think the spontaneous nature of their discussion at the end of the programs made for an informative, interesting and, at times, humorous exchange between them."
Kebow is currently presenting Lincoln's Greatest Speech to various broadcast and cable entities and other sources for wider screening and airing later in 2015. Further launch events are currently being scheduled.