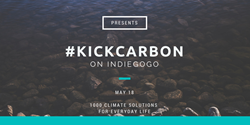 Boston, MA (PRWEB) May 07, 2015
ClimateStore Inc., is pleased to announce the launch of its #KickCarbon Indiegogo crowdfunding campaign. Between May 18, 2015 and June 18, 2015 ClimateStore aims to maximize the store's positive impact by garnering funds to increase their catalog three fold to 1000 climate-friendly products.
During its first year in operation, ClimateStore.com successfully made it fun and easy for people to reduce their carbon footprints by providing lower-carbon products for the home. While they currently offer 300 curated products, the company wants to more than triple its scope. Through their Indiegogo campaign, ClimateStore will gain the resources it needs to source, review and thoroughly curate products, expand its offerings, and become the place for climate-minded consumers to shop and make a difference.
"While working to reduce the size of our family's carbon footprint, aside from going solar, we discovered a shortage of ideas and information related to low carbon living - it just wasn't easy to find products from well vetted suppliers. We kept thinking there had to be a better resource," says Steve Bushnell, Founder of ClimateStore "so, we came up with the idea of ClimateStore – an online store entirely dedicated to people interested in taking personal action to reduce their carbon footprint. A place where people could learn about climate change, build a personal plan, find great products –and trust that each had been vetted for its carbon lowering potential."
Climatestore is excited about crowdsourcing through the Indiegogo platform which has historically attracted individuals interested in supporting projects with social and environmental missions. Raised funds will drive all aspects of product discovery, carbon impact assessment, lifecycle classification, and detailed presentation of eco-friendly attributes on its website. Consistent with the company's mission, only products with a clear link to the climate will be accepted. The campaign will also result in identification of novel CO2 lowering products from emerging cleantech start-ups interested in accessing climate conscious shoppers.
To support the campaign, the company will be promoting the #kickcarbon hashtag –a call to action emphasizing the collective need start 'kicking the fossil fuel habit' if we are to secure a habitable planet for ourselves, nature and future generations. Consistent with this call to action, the company has a mission to make it fun and easy for people to reduce their carbon footprint by:

Helping people learn about climate change
Offering innovative ideas for sustainable living
Providing great products that reduce fossil fuel use
Sharing success stories as we work together to achieve needed greenhouse gas reductions
Climatestore believes the debate about climate change is over: it's real, it's us, it's serious and there's still time to make a difference.
About ClimateStore Inc.
The mission of ClimateStore is to make it fun and easy for people to reduce their carbon footprint in the age of human caused climate change. The company was founded in 2013 and is building a national brand where consumers can learn about climate change, make an action plan, and find products to reduce their carbon impact. Consistent with its mission, the company runs its operations in a carbon neutral manner; the company's website is powered with wind energy, its operational and shipping footprint is managed through carbon offsets, and employees are offered incentives to use public transportation. ClimateStore also relies on partnerships with like-minded organizations such as 1% for the Planet and the CarbonFund in order to support reforestation initiatives and climate change awareness programs.
###