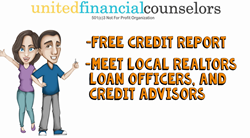 Sunrise, Florida (PRWEB) May 08, 2015
Designed to instruct, guide, and assist individuals in understanding an aggressive and fast-moving real estate market, anyone seeking to purchase a home in sunny Broward County but is too unsure to get started can benefit from structured professional assistance.
"As a first time home buyer, there are criteria that you must meet in order to successfully purchase and secure a home. Unfortunately most think that they do not meet those guidelines, but that simply is not the case" says Jason Walowitz, Director of Finance with United Financial Counselors. "What if I told you a renter with a 600 credit score and only $3,500 in savings is a potential homebuyer or what about the military veteran with ZERO savings. He is a potential homeowner. Also, what about the cute 75 year old couple that has been renting their whole life; well they can be potential homeowners too. There are amazing opportunities available and we want to provide the renters of Broward County the resources and knowledge to become homeowners."
With millions of residents in Broward County living in dozens of cities, towns, and communities, there is a distinct need for strong, unbiased information. Rather than continuing to rent, potential homebuyers can learn what it takes to find the right property with a free a community-sponsored event.
In order to educate interested prospective homebuyers, seminars will run throughout the event, covering important topics like credit restoration, strategies for negotiating credit, and federal home buying programs, including those available through the FHA and VA, as well as Fannie Mae and Freddie Mac. Interested individuals can attend all seminars, or select the most interesting topics based on personal relevance.
In addition to seminars, attendees will also have the opportunity to meet with real estate, credit, and lending professionals, including credit counselors, representatives from the Broward County Property Appraiser's office, and Florida Power and Light. With free access to this unique array of educational tools, interested individuals can learn everything they need to know about breaking into the local property market. Attendees can browse local properties, discuss strategies on restoring credit, and even receive a free credit report to enhance financial understanding.
All renters deserve to understand their true financial situations in order enter the real estate market with confidence. By attending this unique, free seminar on May 16th, individuals will have access to extensive information designed to facilitate the purchasing process in today's real estate market.
United Financial Counselors is a 501(c)3 not for profit organization located in Hollywood Florida. To register for the event please contact 786-288-5320 or email Events(AT)UnitedCounselors.org