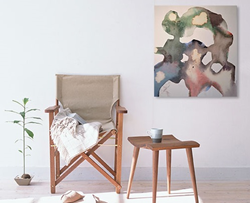 'The online luxury market is outpacing offline luxury at least 2 to 1. We're excited to see the market catching up to our vision of making original art accessible and enjoyable for everyone.' -- Stephen Tanenbaum, President & Co-Founder of UGallery
San Francisco, CA (PRWEB) May 07, 2015
UGallery (http://www.ugallery.com), a leading online art gallery offering curated original works from the world's most talented mid-career and emerging artists, today announced a record quarter for 2015 Q1, setting the company on pace for 52% revenue growth for the year. To date, UGallery has experienced double-digit growth every year since its founding in 2006. The announcement comes on the heels of The Hiscox Online Art Trade report* released last month, which shows online is the fastest growing sales channel in the global art industry.
"The online luxury market is outpacing offline luxury at least 2 to 1," said Stephen Tanenbaum, President & Co-Founder of UGallery. "We started UGallery in 2006 when the art industry was run by a small group of physical galleries and collectors. We saw there were thousands of talented emerging artists looking to showcase their work, and just as many people looking to buy, but there was no reputable platform connecting the two. We're excited to see the market catching up to our vision of making original art accessible and enjoyable for everyone."
According to the Hiscox report, online art now represents $2.64 billion of the $55.2 billion global art market, and is expected to reach $6.3 billion by 2019. 80% of clients find the ease of searching to be a main advantage of buying art online, followed by the discovery of new art and artists (71%) and the convenience of buying online (67%). The online channel is attracting new collectors in particular, with 84% of transactions being less than $15,000 and 45% of clients noting it is less intimidating to buy online than in a gallery.
"UGallery's diverse range of 7,000 curated artworks serves a broad audience, from casual home decorators to seasoned collectors," said Alex Farkas, Gallery Director and Co-Founder of UGallery. "We hand-select every piece, so our clients have access to truly unique, thought-provoking and well-made work."
Q1 2015 and overall 2014 UGallery highlights include:

Revenue Growth: Record revenue growth in Q1 2015, following 40% growth in 2014. Original works, including oil and acrylic paintings and mixed media artwork, led the growth for the online art company.
Increase in Average Order Value: AOV grew 36% in Q1 versus last year, highlighting collectors' growing propensity to seek and purchase large-ticket items online.
International Expansion: UGallery has now shipped artwork to over 50 countries, serving new clients worldwide.
Migration to Mobile: Clients are migrating to mobile devices, with traffic on devices now totaling 38% versus 33% last year. Transactions on mobile and tablet devices grew 2,300% and 800%, respectively.
To date, UGallery has received $1.7 million in seed funding from Trailhead Ventures, located in the Bay Area. UGallery plans to expand its operations and team in 2015, including wholesale channel development and international expansion.
For further information on UGallery, please visit http://www.ugallery.com.
About UGallery
UGallery is a curated online art gallery that sells original, one-of-a-kind artworks. Founders Stephen Tanenbaum, Alex Farkas, and Greg Rosborough came together in 2006 to create a revolutionary approach to art sales that democratizes the entire art buying process. Through the online platform, clients can browse the collection by price, medium, style, size, color, or artist and give any piece a weeklong test run in their home risk-free. More information about UGallery can be found at http://www.ugallery.com, or by visiting UGallery on Facebook (http://www.facebook.com/ugallery), Twitter (http://www.twitter.com/ugallery) or Pinterest (http://www.pinterest.com/ugallery).
*Source: Hiscox Online Art Trade Report 2015