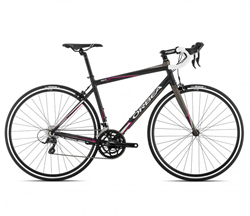 Bicycle Adventures will be offering high end Orbea bicycles to all clients on Mainland tours starting June 1, 2015.
Redmond, WA (PRWEB) May 07, 2015
Bicycle Adventures is pleased to announce their partnership with Orbea bikes for the 2015 season.
Orbea has been producing high quality bicycles since the 1930's and is a proud sponsor of many international cycling teams. Many Orbea bikes have been ridden to Olympic gold, further demonstrating their stellar design and ability. This rich history and promising future makes Orbea bikes the perfect choice for any road adventure.
Bicycle Adventures will be offering high end Orbea bicycles to all clients on Mainland tours to exciting destinations including Glacier National Park, Jasper National Park, Oregon's Crater Lake National Park and the Columbia Gorge, Washington's San Juan Islands & Mt Rainier National Park.
Starting June 1st all riders will have their choice between a standard Orbea Avant H30, or, for an additional fee, the ultra-high end Orbea M20D- the bicycle equivalent of driving a Ferrari!
In addition, all Bicycle Adventure customers can choose between many different styles of bicycles for different levels of physical fitness and comfort. Options include road bikes, hybrid bikes, and e-bikes. On Bicycle Adventures' family tours, bikes for children of all ages are also available with options including bike trailers, tandem bicycles, and tiny tots bikes.
About Bicycle Adventures
Bicycle Adventures is a Pacific Northwest-based active travel company specializing in two-wheel tours in North America, Hawaii (the Big Island) and internationally.
Scenic byways, four- and five-star accommodations, local dining and visits to National Parks are trademarks of Bicycle Adventures, founded in 1984. Types of tours include Classic (25-50 miles a day), Classic Plus (50-60 miles a day) and Epic (70+ miles a day with the most demanding terrain). Value-driven Frugal tours offer budget-conscious lodging and meals with full van support; Family tours offer multi-sport adventures and riding on safe, scenic bike paths.
Pre-set and custom tours embrace the Pacific Northwest into Canada, California and the Southwest, as well as the Dakotas, New York, Hawaii, New Zealand, Spain's Basque region and Taiwan. Excelling in its own backyard the Redmond, WA-based company's line-up focuses on National Parks and includes a National Geographic 'Tours of a Lifetime' award-winning Empire Epic cycling tour from Washington to Montana's Glacier National Park, urban adventures in Seattle and Portland and a family tour series that garnered Outside Magazine's 'Best of Travel 2015' award.