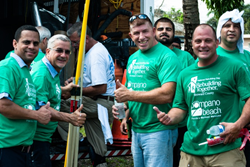 Deerfield Beach, FL (PRWEB) May 07, 2015
Taking a page from popular home makeover TV shows, hundreds of volunteers from throughout Broward County recently joined forces to fix and restore more than 15 homes in Pompano Beach as part of National Rebuilding Day (April 25), a project of the non-profit organization Rebuilding Together Broward.
More than 70 highly-qualified repair technicians and volunteers from Rapid Response Team, an affiliate of People's Trust Insurance, focused their energies on four projects, including a major renovation of Annie Mae Wiggins' home.
"This home was in desperate need of some TLC," said Jason Coben, Rapid Response Team director of quality assurance. "Many areas of the home were in disrepair or not even functional. When we heard her husband passed away recently, we realized the challenges and lack of resources Ms. Wiggins was dealing with."
Rapid Response Team is the largest insurance restoration company in Florida. The team renovated and/or repaired every major area of the Wiggins house, including resurfacing and repairing the roof; replacing all flooring, walls and cabinetry; painting and resurfacing the exterior; and renovating the exterior landscaping.
"I can't even begin to describe what an amazing impact Rapid Response Team had on our day and for Ms. Wiggins," said Sandra Veszi Einhorn, Rebuilding Together Broward Executive Director. "Truly a terrific team."
"We are very proud to contribute these hundreds of hours to National Rebuilding Day. We applaud and support the efforts of Rebuilding Together throughout the year and especially on this day," said Kevin Walton, Rapid Response Team chief operating officer. "Our sense of responsibility to give back to the community runs throughout our organization right from the top."
National Rebuilding Day is the annual signature event of Rebuilding Together, the leading national nonprofit working to preserve affordable homeownership by bringing volunteers and communities together to rehabilitate the homes of low-income homeowners.
###
ABOUT REBUILDING TOGETHER BROWARD
Rebuilding Together Broward is a nonprofit that has provided home repair assistance to low-income, elderly and veteran homeowners in unincorporated Broward County, Wilton Manors, Pompano Beach, Hollywood, Pembroke Pines and Miramar.
ABOUT RAPID RESPONSE TEAM
Rapid Response Team is the largest insurance restoration general contractor in Florida. A proud affiliate of People's Trust Insurance, the Rapid Response Team provides 24/7 emergency water mitigation, high-quality restoration services and managed repair coordination exclusively for People's Trust policyholders. With a full-time staff of more than 300, the company operates a fleet of more than 148 repair trucks and other vehicles ready to deploy at a moment's notice. The company operates 10 Response Centers throughout the state that contain supplies that may be needed in the event of a loss or disaster, such as water mitigation equipment, tarps, plywood and generators.
ABOUT PEOPLE'S TRUST INSURANCE
Founded in 2008, People's Trust Insurance has emerged as one of Florida's top 10 home insurance companies, providing homeowners with affordable rates and benefits not available anywhere else. Honored with the 2013 Enterprise Florida Governor's Innovators in Business Award, People's Trust provides a "Better Way" for more than 135,000 Floridians to insure their homes. With more than 600 employees in our family of companies and an affiliation with Florida's largest insurance restoration general contractor, People's Trust is Florida's best-prepared home insurance company and a full partner in our policyholders' recovery after loss.