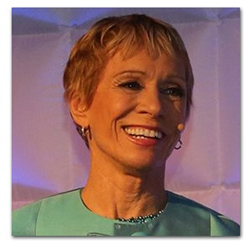 "It's a fabulous act of the universe to actually be in business for yourself, having nobody tell you what to do," said Shark Tank investor Barbara Corcoran. "Congratulations for having the guts to run your own business."
New York, NY (PRWEB) May 06, 2015
Shark Tank investor Barbara Corcoran delivered sass, sizzle and savvy advice to a crowd of entrepreneurs at the ASI Show® New York on Wednesday, telling them to stay competitive by keeping their workplace fun.
"Fun is good for business," she told a rapt audience of nearly 300 at a two-day trade show at the Javits Center hosted by the Advertising Specialty Institute® (ASI) for the $21.5 billion promotional products industry.
"I created outrageous fun," Corcoran said, "instead of just boring Christmas parties." She said her legendary costume parties and picnics helped her real-estate employees bond, while helping lure top people from her competitors.
"It's a fabulous act of the universe to actually be in business for yourself, having nobody tell you what to do," said Corcoran, who's personally invested in over 30 startups on ABC's Shark Tank. "Congratulations for having the guts to run your own business."
By billing herself early on as a realtor to the stars, she seized the city's imagination, along with sizeable publicity. She also suggested business owners "shoot the dogs early," by firing underperforming salespeople publicly ranked by how much they sold.
"Barbara Corcoran was excellent – one of the best motivational speakers I've ever heard," said Dr. Kevin Chen, of Business Methods Corporation.
The keynote was a highlight of the show, which attracted 175 exhibitors and nearly 1,600 distributors from 32 states and seven countries, including 141 female-owned and 120 minority-owned companies.
Distributor Brian Dawson, of EmbroidMe.com, said his company loves holding its regional meeting at ASI New York. "It's a valuable way for us to expose our franchises to the promotional products world," he said.
Supplier Melinda Marr, of Hotline Products, said she appreciates the national exposure ASI shows provide. "Since we don't have sales or multi-line reps, shows are the way for us to get exposure in the industry."
Tuesday night, attendees enjoyed the annual Counselor® Hot 25 party at Dream Downtown, celebrating 2015's hottest product design and best ad awards, products and 10 fastest-growing suppliers and distributors. Click here for the list of the industry's hottest, most innovative game-changers.
About ASI
The Advertising Specialty Institute (ASI) is the largest media, marketing and education organization serving the promotional products industry, with a network of over 25,000 distributors and suppliers throughout North America.