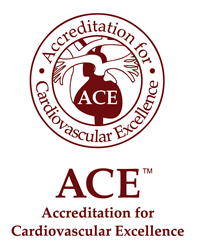 Our goal is that every CHI Health cardiovascular service line will deliver a consistent and high standard of quality care. -- Jerome Granato, M.D., Vice President and Medical Director, National Cardiovascular Service Line, CHI Health
Englewood, CO and Washington, DC (PRWEB) May 07, 2015
Five CHI Health cardiac-catheterization labs in Nebraska and Iowa -- CHI Health Bergan Mercy, CHI Health Immanuel and CHI Health Lakeside, all in Omaha; CHI Health Midlands in Papillion, Neb.; and CHI Health Mercy in Council Bluffs, Iowa -- have been recognized for achieving high-quality standards of care by the Accreditation for Cardiovascular Excellence, an independent, physician-led organization dedicated to best practices in cardiovascular care. The five facilities also are the first of several other Catholic Health Initiatives (CHI) cardiac-catheterization labs on track to achieve this distinction.
"Our goal is that every CHI Health cardiovascular service line will deliver a consistent and high standard of quality care," said Jerome Granato, M.D., vice president and medical director, of the national cardiovascular service line for Englewood, Colo.-based CHI, which operates hospitals and other health care facilities in 18 states. "One way we plan to achieve this goal is to have the remainder of our 25 facilities across the country achieve this important accreditation."
CHI partnered with ACE, an independent organization to ensure that every aspect of the operations of the first five cardiac catheterization labs met -- or exceeded - - nationally accepted best-practices in invasive and interventional cardiology care.
CHI Health, the largest health care provider in Nebraska, provides heart care services ranging from outpatient to tertiary care across Nebraska and southwest Iowa. CHI Health's heart care is also recognized by the American Heart Association/American Stroke Association's Get With The Guidelines, Truven's 100 Top Hospitals and the CMS HQID Top Performer awards.
During the review process, the five cardiac-catheterization labs earned praise for many aspects of their programs. ACE's expert reviewers worked in partnership with the CHI Health heart team to identify opportunities to update, standardize and improve all processes with the expectation that the rigors of a strong accreditation program would help initiate and promote best practices across the CHI system.
"Accreditation puts us on a path to drive best practices in our institutions," said Jeff Carstens, M.D., M.B.A., who is the executive medical director, CHI Health Heart & Vascular Institute. "We chose Accreditation for Cardiovascular Excellence (ACE) because of their collaborative nature. Other accreditation programs have broad systems. We wanted to go deep, and ACE is uniquely focused on validating the quality and processes of the cardiac cath and percutaneous coronary intervention labs."
About Accreditation for Cardiovascular Excellence (ACE)
ACE is the global leader in accreditation and external quality review services for all catheter-based cardiovascular procedures. ACE, an independent organization sponsored by the Society for Cardiovascular Angiography and Interventions (SCAI) and the American College of Cardiology Foundation (ACCF), offers independent evaluation and monitoring of facilities that provide cardiovascular care. By reviewing facility and operator performance and comparing clinical decision-making to nationally accepted best practices, ACE quality review and accreditation services play a critical role in continuous quality improvement programs. Join us. Let us exceed your expectations and provide a free consultation. Contact ACE at info(at)cvexcel(dot)org or call our office at 202.657.6859 or visit our website at http://www.cvexcel.org.
About Catholic Health Initiatives
Catholic Health Initiatives, a nonprofit, faith-based health system formed in 1996 through the consolidation of four Catholic health systems, expresses its mission each day by creating and nurturing healthy communities in the hundreds of sites across the nation where it provides care. One of the nation's largest health systems, Englewood, Colo.-based CHI operates in 19 states and comprises 105 hospitals, including four academic health centers and major teaching hospitals and 30 critical-access facilities; community health-services organizations; accredited nursing colleges; home-health agencies; and other facilities that span the inpatient and outpatient continuum of care. In fiscal year 2014, CHI provided $910 million in charity care and community benefit -- a nearly 20% increase over the previous year -- for programs and services for the poor, free clinics, education and research. Charity care and community benefit totaled more than $1.7 billion with the inclusion of the unpaid costs of Medicare. The health system, which generated revenues of almost $13.9 billion in fiscal year 2014, has total assets of $21.8 billion. Learn more at http://www.catholichealthinitiatives.com.
About CHI's National Cardiovascular Service Line
CHI's Heart Care places the patient first, providing access to the highest quality, complete care. With leading physicians and clinicians, latest research, high quality diagnostics, and care for recovery and/or support of optimal health, we create a unique care experience that brings efficient and effective care close to our patients' homes