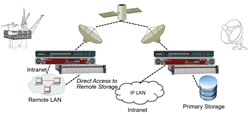 Bay's IBEx Global Fabric Extenders present huge cost efficiencies for Satellite data service providers.
San Jose, CA (PRWEB) May 12, 2015
Bay Microsystems, Inc., today announced a distribution and integration partnership with PCPC Direct, a leading integrator of High-Performance Computing, Storage and Data Center Service Solutions. As a result of the agreement, PCPC Direct will market, sell and deploy Bay Microsystems' complete line of IBEx™ Global Fabric Extenders.
Data is growing at astronomical rates and according to IDC's Digital Universe Study¹, the amount of digital data generated this year will reach nearly seven Zettabytes (10²¹ bytes) growing to more than 40 Zettabytes by 2020. This is a staggering figure and organizations dealing with huge data sets face the growing challenge of moving and accessing Big Data over ever increasing distances. For many mission critical applications, Data Replication, Remote Access, Cloud Computing and Data Sovereignty among others, this presents a significant challenge for those tasked with creating and managing large data sets in geo diverse locations.
Bay Microsystems' family of IBEx products offer a new paradigm for moving Big Data across distance, providing maximum bandwidth utilization up to 98%, and achieving dramatically lower latencies than alternative solutions. The results are near real-time access to big data as if it were local and the ability to move large amounts of data over fiber at distances up to 20,000km and at rates never before possible. Bay's unique approach utilizing industry standard technologies to natively extend high-speed fabrics across wide area networks minimizes the bottlenecks and overhead related to TCP/IP data transmission, allowing users to fully optimize expensive bandwidth.
"The proliferation of data and the need for accessing and moving data in geo diverse environments creates a tremendous opportunity for us and our channel partners," said Randall Meals, CEO at Bay Microsystems. "The combination of our proven fabric extension technology along with the solutions and integration expertise offered by key partners like PCPC Direct, make it easy for end customers to more effectively manage and access distributed data located virtually anywhere in the world."
PCPC Direct is a leading integrator and manufacturer for High-Performance Computing. PCPC possesses the skill sets required for developing large compute and storage systems and connecting those systems. PCPC has considerable expertise and experience in transporting data across long distances utilizing both the terrestrial landscape and satellite networks. The solution the two companies have developed for transporting vast amounts of data across satellite has proven to be an effective way to bring best of class service to an exciting industry.
"The opportunity to solve Big Data over distance with IBEx presents a tremendous opportunity for our customers," said Steven Olshefski, Director of Strategic Business Development at PCPC Direct. "We have already validated the application for Bay's IBEx in Satellite Communications, where existing link utilization limitations present huge cost inefficiencies for Satellite data service providers. Third party tests confirm that the IBEx Fabric Extender delivers eight times the performance of existing configurations."
See the test results at http://www.baymicrosystems.com/solutions_satellite_overview.php
About Bay Microsystems
Bay's products enable access to and movement of Big Data over fiber and satellite networks, delivering very low latency performance at extreme speeds and across ultra-long distances never before thought possible. This new generation of networking allows Bay's customers to optimize their computing, storage, and networking resources, and to unlock previously unattainable capabilities.http://www.baymicrosystems.com
About PCPC Direct
PCPC Direct, Ltd. is a woman-owned Texas enterprise headquartered in Houston but maintaining a global reach. As a leading integrator and manufacturer for High-Performance Computing (HPC), PCPC possesses the skill sets required for developing large storage systems and enabling the movement of big data around the globe. http://www.pcpcdirect.com
¹ http://www.emc.com/leadership/digital-universe/2014iview/executive-summary.htm