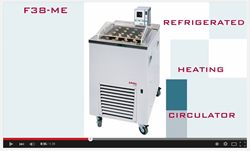 This video is just that, giving you a peek into a product that we know brewers are excited about.
Allentown, PA (PRWEB) May 07, 2015
JULABO USA added a new video to their YouTube channel line-up and this time they're giving you the scoop on their F38-ME large capacity recirculating bath, designed for the forced ageing of beer. This unit, in conjunction with a photometer, determines the product life (or shelf life) of beer. The simulated aging process is achieved through a programmable temperature profile which is repeated until the first clouding develops. Making things easier on you, all temperature profiles of the forcing test are pre-programmed. The 11.9 gallon (45 L) tank accommodates a rack insert holding up to 20 bottles (12 oz. to 16 oz.).
"The food and beverage industry is very fun and fast paced" said Mark Diener, Product Manager at JULABO USA, "so this video is just that, giving you a peek into a product that we know brewers are excited about."
JULABO USA recently exhibited the F38-ME at the Craft Brewers Conference in Portland, Oregon. "At the show we realized that brewers weren't aware that a product like this existed, but once they found out, they only wanted to learn more!" said Diener.
Take a look at JULABO's newest video on the F38-ME Forcing Test Refrigerated-Heating Circulating Bath here: https://www.youtube.com/watch?v=XArOlepbYVI
JULABO is a manufacturer of liquid temperature control instrumentation producing temperatures from –90˚ to +350˚C, providing quality devices for research, science, and process in many industries such as aerospace, semiconductors, chemicals, biotech, water treatment, defense, solar & automotive. JULABO products consist of fluid heating and refrigerated circulators and baths, chillers and dynamic temperature systems. Using JULABO temperature producing instruments will help increasing reliability, accuracy and reproducibility in your process. JULABO USA, Inc. is ISO9001 certified ensuring the customer receives the highest quality product and best service for every purchase.