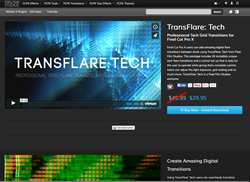 This is a great transition and can be adjusted to meet anyone's needs.
Aliso Viejo, CA (PRWEB) May 07, 2015
Final Cut Pro X users can add digital flare transitions between frames using TransFlare Tech from Pixel Film Studios. This package includes 30 unique tech flare transitions. Users can adjust the light exposure, grid scaling and more.
Using TransFlare Tech users can seamlessly transition through scenes with digital grid effects. This plugin is perfect for computer related footage, but can be applied to any footage with great results.
TransFlare Tech's 30 flaring grid transitions are shot in 5K resolution and can be adjusted in scale and position without losing substantial resolution. Each flare included in this package is shot using top of the line equipment and uniquely crafted to give the user the most variety possible.
TransFlare Tech comes with an advanced lighting section that can be located in the inspector window at the bottom of the control rig. Users can control the zoom level of lights, glow, brightness, contrast, and light trail settings all using simple sliders. The angle of zoom lighting can be controlled by giving values to its X and Y location and adds a new level of functionality to lighting.
TransFlare: Tech was designed to work seamlessly inside FCPX, eliminating the need to composite footage. Simply choose your desired tech transition in the transitions window, and then calibrate the lighting and placement of the effect. You can also adjust the length of the transition in the timeline to best work with your scene.
Established in 2006, Aliso Viejo, California-based Pixel Film Studios is an innovative developer of visual effects tools for the post-production and broadcast community. Their products are integrated with popular non-linear editing and compositing products from Apple FCPX. All Apple, the Apple logo, Mac OS X, and Macintosh are registered trademarks of Apple Inc. in the U.S. and/or other countries. All other trademarks and trade names are the property of their respective owners.