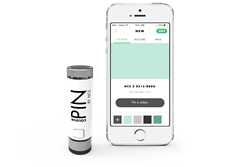 "The idea of being able to describe the colours you see is what founded NCS more than 75 years ago. Colourpin is a great example of how modern technology lets us take this idea even further, making it easier than ever to capture colours on the go."
Chattanooga, TN (PRWEB) May 07, 2015
Variable, Inc., creators of the NODE wireless sensor platform for smart devices, recently announced an exclusive distribution agreement with Sweden-based color management firm NCS Colour. Effective immediately, the partnership facilitates the offering of Variable's NODE+chroma colorimeter device under the NCS label Colourpin® throughout Europe.
"Our partnership with NCS is a perfect pairing of the powerful capabilities of the NODE+chroma and the creative energy represented in the NCS color vision," said Variable's vice president of marketing John Kowalski. "We are delighted to partner with NCS and look forward to seeing the great work that evolves from the talented professionals that use the device."
Colourpin integrates the utility of a handheld colorimeter with the aesthetics of a customized color communications system. Powered by a free app and wireless connection to a smart device, users collect colors by placing the device tip on a surface to get the closest match in the NCS Index. Users then add pictures via the in-app camera and notes to create a fully customized storyboard that can be reviewed, edited and shared with clients and colleagues. Helpful information, including lightness values and conversions to RGB, CMYK and Lab, displays automatically for pinned colors.
Showcased at the recent European Coatings Show in Nuremburg, Germany, the Colourpin is expected to draw the attention of professionals on the aesthetics side of the painting and coatings industry. NCS Colour product manager Fredrik Lundgren said, "The idea of being able to describe the colours you see is what founded NCS more than 75 years ago. Colourpin is a great example of how modern technology lets us take this idea even further, making it easier than ever to capture colours on the go."
The Colourpin's hardware, the NODE+chroma, is one of several platforms in Variable's suite of NODE sensors that capture environmental measurements, like motion and CO2 levels, via interchangeable caps. Named by CNN Money as "the coolest gizmo we found at CES" in 2013, the NODE+ sets itself apart from others by its modularity, compact size and affordable price tag. Kowalski said, "At around €250 and about the size of a roll of coins, professionals who are used to paying much more for a clunky device will be pleasantly surprised by the power and ease of this one."
The Colourpin is currently available in Europe and on the NCS website at ncscolour.com and at colourpinbyncs.com. High-resolution product images are available here.
About Variable, Inc.
Creators of the award-winning NODE wireless senor, Variable, Inc. is a leading electrical device and technology firm based in Chattanooga, Tennessee. Bolstered by two successful Kickstarter campaigns and the support of industry pioneers, former NASA engineer Dr. George Yu founded the company in 2012 and quickly garnered considerable media and consumer attention. By converting environmental attributes beyond the scope of human perception into tangible data, the suite of NODE platforms enables people to interact with their surroundings in ways not previously possible.
About NCS Colour
NCS Colour and its global base of clients and partners are at the forefront of accurately managing and defining colour. NCS - Natural Colour System with its world-leading standards of quality, accuracy and consistency is the most efficient and accurate way to use colour and communicate colour requirements independent of materials, usage or industry. NCS is the national colour standard in several countries and the recommended industry colour standard in many industry sectors.