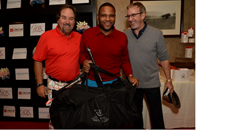 Los Angeles, CA (PRWEB) May 07, 2015
GBK (gbkproductions.com) - the luxury lifestyle gift lounge and special events company hosted the official Thank You Lounge for the Eighth Annual George Lopez Celebrity Golf Classic benefiting the George Lopez Foundation on Monday, May 4th at the Lakeside Country Club in Toluca Lake, CA. Celebrities that attended the lounge include George Lopez, Anthony Anderson, Rob Riggle, Andy Garcia, Alan Thicke, Danny Masterson, Jimmy Jam, Tim Allen, Richard Karn, Cedric the Entertainer and more.
Celebrity golfers were treated to a special gift lounge in support of the George Lopez Foundation and received gifts and gourmet treats from the luxury brands including:
The event's Presenting Sponsor, LifeCell, an all-in-one anti-aging treatment formulated to target every aspect of aging skin; A year supply of plant-based protein infused products from D's Naturals; Pelican ProGear™ Voyager cases which are slender, lightweight and built with multiple layers of energy-absorbing materials for 360-degree protection, from Pelican Products, Inc.; Cleveland Golf, who was on site gifting their TFI Smart Square putter - the most advanced putter that the company has ever created; Limited edition time-pieces from Curtis & Co. Watches; $250 gift certificates towards TV and film DVDs from Couch Potato; 3 personal training sessions from Celebrity Trainer Lalo Fuentes; Bath and body products from Milena's Boutique; Mountain Khakis, a top-performing mountain-inspired lifestyle apparel brand, was on site providing guests with gift cards, swag and accessories to encourage a daily outdoor inspired lifestyle; VIP Club Pass for one week to the premiere tennis and fitness club in Los Angeles, and one personal training session with a TLTFC Club Trainer from Toluca Tennis Club; custom golf bags from Vessel; and fine hand-crafted bracelets and pendants featuring rare and precious metals from William Henry.
While doing a little "shopping" in the lounge, golfers sampled delicious treats from gourmet sponsors including: a selection of dips from Sabra, a leader in the refrigerated dips and spreads category and producer of Americas top-selling hummus; samples from Knuckle & Claw - serving up lobster rolls, crab rolls, shrimp rolls, and even a truffled lobster grilled cheese, this Sunset Blvd eatery has already generated a cult following this past fall at Farmer's Markets throughout Los Angeles; and a 9 glass variety pack from from Copa Di Vino who offers a brilliantly simple idea of bottling premium wine directly into a glass.
DJ Shy kept the energy up and the vibe fun while guests enjoyed this special lounge supporting a great cause.
The foundation's mission is to create positive, permanent change for underprivileged children and adults confronting challenges in education and health, as well as increasing community awareness about kidney disease and organ donation. Following the tournament, there was a silent and live auction benefiting the George Lopez Foundation. For more information about the foundation, please visit: http://www.georgelopezfoundation.org
# # #
ABOUT GBK:
GBK, formerly GBK Productions, is a luxury lifestyle gifting and special events company, specializing in entertainment marketing integration. Formed in 2000 by Gavin Keilly, the company's Founder and CEO, GBK consists of five divisions: GBK Celebrity Gifting, GBK Special Events, GBK Weddings, GBK Charitable Consulting and GBK Marketing/Public Relations. Widely known in the entertainment industry for bringing that little extra something into the Gifting Lounge environment, GBK offers its clients a full range of marketing services. For more information on Gavin B. Keilly (CEO), Carla Domen (VP) or GBK, please go to gbkproductions.com.