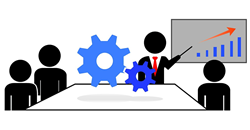 Teaching sales people to tie down higher profits!
Los Angeles, CA (PRWEB) May 07, 2015
It's not always obvious where to find the best sales training companies with so many programs offering incredible results. However, sales are the foundation to any strong business. Without sales, a company doesn't exist. Businesses that have a strong systematic selling process will typically have higher closing ratios. Ultimately attaining a higher bottom line is every business' primary objective. Fortunately a tremendous resource for business owners, Eye To Ad Media introduces business sales training. The company specializes in systematic selling techniques and can teach beginning, intermediate and advanced selling skills.
There's sales opportunities missed by employees every single second, of every single day. Sometimes it may be a sales persons actions deterred a client away from any future purchases, or it could be forgetting to upsell an item that could have fulfilled a need or want for a buyer. There's many important parts to the selling process. One step not being greater than the other. All are meant to work in harmony with one another. The successful sales call can be mapped out, defining critical moments in which an upgrade is appropriate, or how to eliminate the competition. Understanding human buying signs, price conditioning and trial closes are merely a glimpse into the services offered by this unique media firm.
Sales managers are constantly watching gross closing ratio, net closing ratio and revenues per lead. These vital metrics give insight into the health of any given sales team. A high gross closing ratio that has a really high cancellation rate, might mean the sales personnel is missing critical steps in their sales calls. The expert sales trainers can perform a ride along, whether it's for B2B or B2C, inside or out, and diagnose areas within a sales call that need to be adjusted for higher conversion rates.
According to the company, establishing a strong rapport is still one of the most effective forms of selling. Sales people that focus on helping their client, almost always end up being top performers. Making the focus about the client takes a lot of the pressure off and can help ease a sales call, into a sale. Building rapport has been talked about by practically every sales training module and sales trainer to exist, yet there may be more there, than meets the eye.
Building relationships that last and encompass mutual trust can take time and work. When focusing on the prospective clients true needs, as a fellow person and not just a consumer; a sales person can learn vital motivating buying factors about their client. Becoming the best in sales is a matter of integrity. Offering the solution to match the need or want. Although only if it's truly is a good fit for the prospective buyers' needs or wants. Sales people that are concerned with doing the right thing and selling products and services that benefit their customer's lives will always excel much further.
When sales people are qualifying a lead through a discovery process, they can help the company and client determine if it's a good match or not. Determining the prospect isn't a good fit early on can save a lot of time and money, for both the company and prospect. Transversely, uncovering a way to provide a solution can make a new customer fast. Also publishing leads that haven't been properly qualified can erode company moral. Long drive times, commission only positions rely on a sales process that sets them up for success every time. The business sales training services offered can help sales staff better understand how to uncover needs and justify the value of products being sold.
Qualifying the lead can happen much before a phone call, or an in person visit. This ad agency can help penetrate the exact target audience of a business within a target market. Getting the best leads of genuinely interested customers is what every company wants. By providing keyword research, demographic research and marketing that targets the ideal client, the company can help improve overall lead quality. Furthermore, they can design print and web based, call to action advertising that's designed to increase customer conversion rates.
The firm offers a variety of media services from coast to coast. Web development, app development, SEO, PPC management, video production, copywriting, graphic design, voice overs, radio, pod casting, print marketing, direct mail, magazine printing, website hosting, domain registration and virtual private servers. For a full list of services, please visit https://www.EyeToAd.com or call for a no obligation initial consultation.
Contact Information:
Zach Wennstedt
1-800-481-8638
info(at)EyeToAd(dot)com