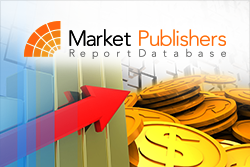 London, UK (PRWEB) May 07, 2015
Market Publishers Ltd and StrateCore Research signed a partnership agreement for quality market research promotion on Internet. MarketPublishers.com is now authorised to distribute and sell research reports prepared by StrateCore Research.
Natalie Aster, Assistant Manager at Partners Department, commented on the recent partnership agreement as follows: "We are excited to announce that a new company from India has recently joined our team of publishers. StrateCore Research focuses on providing shrewd insights and trustworthy research on industries, companies and economies. The reports prepared by the company are aimed at providing clients with the most accurate and trustworthy information, thereby giving them the edge in making effective and timely business decisions. We believe in building a strong and long-term partnership with StrateCore Research, which also cannot but bring positive results to our global customers.
In-demand study by StrateCore Research:
Bharat Heavy Electricals Limited - Detailed Company Report. The study provides comprehensive analysis and detailed research on Bharat Heavy Electricals Limited along with the industrial manufacturing industry. The study provides valuable information and detailed research pertaining to the company alongside its activities across the value chain. The study covers the firm's management, financials, business structure, operations, strategic incentives, business model, shareholding details, social media response (Facebook, Twitter, Google Plus), product and service portfolios, subsidiaries and locations, and provides an analysis of its key revenue lines and the industry it is operating in. An all-round analysis of peers along with its major competitors is included. Additionally, it covers the latest significant news with respect to the company, its key projects, a granular SWOT analysis, and R&D activities. The report offers an analysis of the industry, covering key segments, major industry trends in India, along with a set of government initiatives.
More details on the publisher and its research reports can be found at StrateCore Research page.