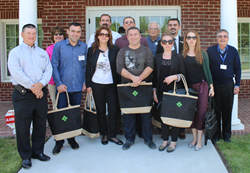 Statesville, North Carolina (PRWEB) May 09, 2015
Open World Leadership Center delegates visited Carolina Farm Credit's Browns Summit Branch May 5th. The Delegation consisted of four Agriculture professionals and a facilitator from the youngest European country, Kosovo (gained independence in 2008.)
The Delegation included: Valmire Havolli (Kosovo Institute of Agriculture), Hartim Gashi (fruit and vegetable processing), Kastriot Kepuska (agriculture lender), Debatik Hoxha (agriculture lender), and Dardane Peja (facilitator). Members of the delegation have been touring agribusinesses in hopes of taking ideas and practices back to their respective companies. Along with visiting Carolina Farm Credit, the group also visited Miss Jenny's Pickles in Kernersville, NC and Syngenta in Greensboro, NC among others.
While at Carolina Farm Credit, the delegation met with - Regional Lending Manager, Fred Pittard and Loan Officers Bill Miller, Jim Webb, and Cindy Strader about the history of the Farm Credit System and Carolina Farm Credit. The Farm Credit team also fielded questions about the state of agriculture in North Carolina and the practices that Carolina Farm Credit uses in order to be successful. Members of the delegation were able to discuss the successes and obstacles that Kosovo is facing in agricultural finance and agriculture in general with their Farm Credit Counterparts.
The Open World Leadership Center operates as part of the Library of Congress and strives to enhance understanding and cooperation between the United States and Eurasian countries by offering delegates firsthand exposure to America's democratic, accountable government and its free-market system.
"Since 1999, Open World has brought more than 17,000 young leaders to the United States from the countries of Eurasia. Through Open World, mayors, legislators, judges, civil servants, educators and entrepreneurs from across the former Soviet Union have come to know the real America. And whether the ideas they take home are practical, such as publishing city council meeting times in the local paper, or more abstract, such as understanding the importance of judicial impartiality to the rule of law, the net effect of Open World is to strengthen the democratic process in their countries," Dr. James H. Billington, Founding Chair of the Open World Board of Trustees.
Carolina Farm Credit is a stockholder-owned cooperative providing financing to full and part-time farmers and agricultural-related businesses and also provides financing for the construction and purchase of homes in 54 counties through 36 branch offices. Other financial services available are credit life insurance, crop insurance, appraisal services, leasing programs and financial planning.
Carolina Farm Credit serves over 9,200 members with loans outstanding totaling more than $1.4 billion. The association's territory covers the western half of North Carolina, with branch offices located in Albemarle, Asheboro, Asheville, Boone, Browns Summit, Burnsville, Carthage, Concord, Conover, Ellerbe, Graham, Hendersonville, Hillsborough, Jefferson, Lenoir, Lexington, Lincolnton, Marshall, Mocksville, Monroe, Murphy, Pilot Mountain, Roxboro, Rural Hall, Salisbury, Shelby, Siler City, Sparta, Spindale, Statesville, Taylorsville, Wadesboro, Waynesville, Wilkesboro, Yadkinville, and Yanceyville.
Carolina Farm Credit was recognized as a 2015 Best Employer in North Carolina. The list of the Best Employers in North Carolina was created by Business North Carolina, the Society for Human Resource Management (SHRM) – NC State Council and Best Companies Group.
Directors for Carolina Farm Credit are Mark A. Bray, Chairman, Lawsonville; L. Kim Starnes, Vice-Chairman, Salisbury; John M. Barnard, Statesville; E. Bernard Beck, Seagrove; W. Rex Bell, Statesville; David M. Coltrane, Pleasant Garden; Susie J. Gambill, Sparta; Joseph A. Lail, Shelby; Clark M. Newlin, Haw River; Thomas E. Porter, Jr., Concord; Tony L. Ragan, Sanford; D. Kaleb Rathbone, Waynesville; Lewis E. Smith, Lincolnton; Vickie N. Smitherman, East Bend; Dr. Alton Thompson, Summerfield.