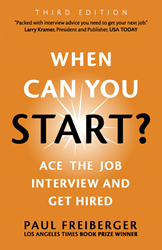 "You will get a job a lot sooner if you read this book." - Guy Kawasaki
San Francisco, CA (PRWEB) May 07, 2015
The job interview is the last step in a life-changing process. A recent survey of 2,000 executives revealed that they know within the first 90 seconds of an interview whether they will hire someone. The interview is a make-or-break moment. Job seekers must understand the latest advice in job interviewing, which includes using the most important online techniques, especially LinkedIn, to improve your job interview strategy. Yet few books explain the value of traditional interviewing along with applying the latest tools.
Enter the new edition of When Can You Start? Ace the Interview and Get Hired, Third Edition by award-winning author and President of Shimmering Resumes, Paul Freiberger. When Can You Start? is the go-to guide that walks job seekers through every step of job interview preparation and gives practical, effective and proven tools to ace the interview and win the job.
From discovering the best ways to research your chosen industry before you begin your search to knowing the best way to present yourself in person and on-line, this book will help turn 'We'll be in touch' to 'When can you start?' Praise for the book includes comments from accomplished professionals in many fields:
"You will get a job a lot sooner if you read this book," said Guy Kawasaki, Founding Partner of Garage Technology Ventures and Former Chief Evangelist of Apple, Inc.
"Packed with interview advice you need to get your next job," said Larry Kramer, President and Publisher of USA Today.
"The job interview is one of the most challenging social interactions anyone faces," says Freiberger. "Anyone can improve their job interview skills and almost anyone can become good at job interviewing with preparation. My clients ask me how to use online tools in their job search. In When Can You Start? I explain that LinkedIn really comes into its own when you're doing interviews. Then, it's not just a useful tool, it's a necessity."
In the book, Freiberger provides guidance on how to:
Be ready for 'The Only Question You Must Be Able to Answer'
Avoid telling the interviewer about your weaknesses
Using LinkedIn to add to your job interview strategy
Ask the right questions of the employer
Handle panel interviews, in addition to conventional one-on-ones
Avoid the most commonly made interview mistakes
Negotiate the salary you deserve
Paul Freiberger is the President of Shimmering Resumes, a resume writing, job interview preparation, and career counseling service. He has helped thousands of clients with job interview preparation, resumes and job search assistance. Freiberger is the award-winning author of Fuzzy Logic, the bestselling Fire in the Valley, and the recently released, When Can You Start? Ace the Interview and Get Hired, Third Edition. Prior to his current position, he has gone through several job transformations himself, including working as a teacher, night porter, newspaper reporter, technology project manager, and directing communications for McKinsey & Company.
For more information, please visit http://www.shimmeringresumes.com.
When Can You Start? Ace the Job Interview and Get Hired, Third Edition is available for purchase on Amazon.
REVIEW COPIES AVAILABLE UPON REQUEST