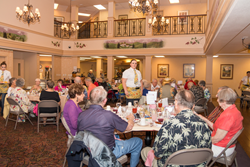 There's a culture of closeness here. Residents and staff look out for each other and care about each other. It's very positive. I don't think there's any question that it improves quality of life for our residents.
SURPRISE, ARIZ. (PRWEB) May 07, 2015
La Loma Village residents know how to party. We are talking a three-day event celebrating the community's first decade. It may not sound like a big deal until you realize that most of the residents who attended the festivities are in their 70s, 80s or 90s.
La Loma Village, a senior living Life Care Community owned and operated by nonprofit Sun Health, marked the milestone with gourmet food, music, dancing and lots of reminiscing, including a memorial service for deceased residents.
More than 184 people call the La Loma Village campus home, 53 of whom are in their 90s, representing almost 30 percent of the population. Seventy-one of current residents are "pioneers" who moved into La Loma when it first opened in 2005.
The longevity and vitality of La Loma's residents is different from anything that executive director Susan Davis has seen before in her long career as a nurse and senior living administrator. "There's a culture of closeness here. Residents and staff look out for each other and care about each other. It's very positive. I don't think there's any question that it improves quality of life for our residents."
The staff and several residents spent months planning for the three-day anniversary blast. Friday evening was a seafood bake featuring a Jimmy Buffett-style band. Saturday morning was a memorial tribute and walk (half-mile and 1-mile) in remembrance of deceased La Loma residents. Saturday evening was a formal dinner, highlighted by a variety show and dancing to a swing band. Sunday featured a breakfast buffet capped off by an afternoon wine and chocolate tasting, a string quartet performance and a slideshow featuring photos from the first decade.
Pioneer resident Helen Peterson praised the anniversary and staff members who planned and worked the events. In a letter, she wrote: "This was and will be a once-in-a-lifetime experience for me, one far grander than expected, and one to brag about…"
Director of Life Enrichment Kari Curry has worked at La Loma for six years and thinks of it as her second home. "We get to know residents well and they get to know us well. They share their wisdom and their life stories. They make us (staff) feel like we belong here." Curry also is the manager of La Loma's assisted living residence.
Ann Flatten is a relative newcomer to La Loma. She moved from Durango, Colo. in December 2014 and was pleased with how quickly she became part of the family. "Everyone is so friendly," she says. "I tell my friends in Colorado that it's a little like going back to college, except you have better food, better accommodations and no studying."
The La Loma Village campus--consisting of independent living, in and outpatient rehabilitation, assisted living and skilled nursing--sits on a parcel of 353 acres donated to Sun Health in 1998 by Litchfield Park residents Wallace and Edith Litchfield. Edith was the daughter of Litchfield Park founder Paul Litchfield, an executive with Goodyear Tire & Rubber who came to the area in 1910 to set up cotton-farming operations. The cotton was used to reinforce Goodyear tires. Paul Litchfield purchased the land and built a homestead just up the hill from where La Loma sits today. The Dennys took over the property in 1978.
The Denny's envisioned the land they donated as a place for health care-related services for the community, in particular services for seniors. Their vision became a reality when Sun Health and La Loma Senior Living Services opened La Loma Village in June 2005. It was later expanded in 2008.
About Sun Health
A long-standing champion for healthy living, nonprofit Sun Health is a community-based health care organization providing "pathways to population health" through philanthropy, senior living, community education and programs, and superior health care. Sun Health Senior Living, part of Sun Health, is the largest locally-owned and operated nonprofit provider of destination retirement communities in Arizona. Its three Life Care communities, Grandview Terrace (Sun City West), La Loma Village, and The Colonnade (Sun City Grand/Surprise) are home to more than 700 residents. Learn more at http://www.SunHealth.org.
###