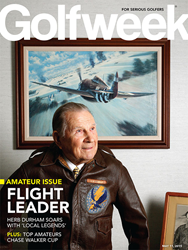 The amateur game truly is the heart of our audience.
Orlando, Fla. (PRWEB) May 07, 2015
With the action-packed spring/summer amateur golf season heating up, Golfweek will devote its upcoming issue to celebrating the passion and perseverance of the game's non-professional players. Thoughtfully compiled by Golfweek's stable of amateur golf experts, the May 11 issue pays special attention to two types of amateur players: local legends and Walker Cup hopefuls.
"The amateur game truly is the heart of our audience," said Golfweek Editor Steve Harmon. "We enjoy sharing the extraordinary stories of golfers who play for the sheer love of the game, whether it's showcasing legendary men and women and their ongoing connection to the game or identifying the next generation of players through our look at their Walker Cup aspirations."
Continuing in a longstanding Amateur Issue tradition, Golfweek highlights four impressive amateurs selected based on their credentials on and off the golf course in a dedicated "Local Legends" section. This year's headlining feature spotlights Texan Herb Durham, 90, who has seen a lot in his days as a fighter pilot and top amateur golfer.
In addition, the 2015 Amateur Issue provides an inside look at the road to the Walker Cup through the eyes of four elite players gunning for a chance to represent their country in the September matches against Great Britain & Ireland. Featuring perspectives from both likely and less likely contenders, this insightful story explores the stakes and the costs associated with making the U.S. squad.
To complement the in-book story, Golfweek is also providing a more comprehensive Walker Cup forecast on Golfweek.com, complete with player capsules on prospective competitors. Plus, Golfweek.com is spotlighting additional Local Legends to round out its celebration of amateur golf.
Visit Golfweek.com to check out the latest amateur golf coverage.
About Golfweek
Founded in 1975, Golfweek is the most authentic, authoritative and independent voice in golf. Serving enthusiasts who are truly passionate about the game of golf, the Golfweek brand includes Golfweek magazine, Golfweek.com, Golfweek Mobile, Golfweek Custom Media, The Golf Wire and TurfNet.com. Golfweek is part of Turnstile Media Group, which specializes in developing diverse media platforms that engage and strengthen the communities they serve. Founded in 1990 and headquartered in Orlando, Florida, Turnstile Media Group is also the parent of Professional Artist, Winter Park/Maitland Observer, Seminole Voice, Central Florida Senior and Turnstile Connect.
###