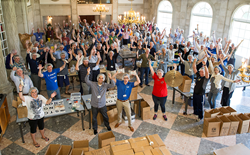 Los Angeles, CA (PRWEB) May 07, 2015
Stop Hunger Now and Manatt, Phelps & Phillips, LLP are joining forces in the fight against hunger. More than 200 lawyers, consultants, advisors and staff members will package meals for the world's hungry at multiple events across the country during the month of May. Stop Hunger Now is a volunteer-based meal packaging program that coordinates the streamlined packaging of highly nutritious dehydrated meals comprised of rice, soy, vegetables and 23 essential vitamins and minerals.
This year, Manatt celebrates its 50th anniversary with a national giving campaign that includes packaging 50,000 meals for the hungry around the globe. Manatt has teamed up with Stop Hunger Now in five U.S. locations, including Washington, D.C., New York City, San Francisco, Los Angeles, and Orange County, CA, to share their commitment of service to those in need. This will be Manatt's largest endeavor in its longtime partnership with Stop Hunger Now and will have a substantial impact on the world's most vulnerable.
"A commitment to making a positive difference has been at the core of who we are as a law firm for the past 50 years," said William T. Quicksilver, Manatt chief executive officer and managing partner. "Working with Stop Hunger Now, whose life-sustaining efforts are vital to the survival of so many, puts that commitment into action in our offices on both coasts. As Manatt celebrates this milestone anniversary, we are grateful for the opportunity to be a part of such important humanitarian work."
Around the world, nearly 805 million people lack adequate food. Stop Hunger Now operates meal packaging locations in 19 cities throughout the U.S. and five international locations, in South Africa, Malaysia, the Philippines, Italy and India. More than 450,000 volunteers from corporations, churches, schools and civic organizations have packaged Stop Hunger Now meals.
Founded in 1998, Stop Hunger Now has delivered aid and disaster relief supplies in the form of food, medical supplies, clothing, school supplies and more to thousands of disaster victims and other hungry and vulnerable people in 65 countries.
"What we want everyone to know is that hunger is solvable and is the common thread among the world's most challenging issues," said Rod Brooks, President and CEO of Stop Hunger Now. "When hunger is targeted, you give leverage and hope to every other cause including poverty, disease, education and the welfare of women and children."
For more information contact Stop Hunger Now Director of Corporate Partnerships, Chris Craven, at 951-551-8732 or ccraven(at)stophungernow(dot)org, or Manatt, Phelps & Phillips, LLP's senior manager of public relations, Lawrence Martinez, at 310-231-5443 or lmartinez(at)manatt(dot)com.
For more than 17 years, Stop Hunger Now has been creating a movement to end hunger. More than 180,000,000 meals have been packaged and distributed along with other aid to 65 countries impacting millions of lives. The organization is driven by a mission to end hunger in our lifetime by providing food and life-changing aid to the world's most vulnerable and by creating a global commitment to mobilize the necessary resources.
The Stop Hunger Now meal packaging program was created to give dedicated individuals the opportunity to participate in a hands-on international hunger relief program and to become educated, engaged advocates for the world's poor and hungry. In 2014, Stop Hunger Now and its global affiliates packaged 50.6 million meals.
In its efforts to respond to emergency needs around the world Stop Hunger Now receives and distributes significant donations of in-kind aid. These donations are large quantities of food, medicines, medical supplies and other such items as may be of use in fighting hunger and providing relief in a crisis. For more information visit http://www.stophungernow.org.
About Manatt, Phelps & Phillips, LLP
Manatt, Phelps & Phillips, LLP, is one of the nation's leading law and consulting firms, with offices strategically located in California (Los Angeles, Orange County, Palo Alto, San Francisco and Sacramento), New York (New York City and Albany) and Washington, D.C. The firm represents a sophisticated client base—including Fortune 500, middle-market and emerging companies—across a range of practice areas and industry sectors. For more information, visit http://www.manatt.com.