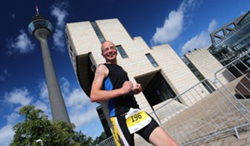 A great race with a fantastic audience along the way
Düsseldorf, Germany (PRWEB) May 07, 2015
Running to the Longest Bar in the World, swimming circles around the Media Harbor, and cycling across the Rhine River are three very popular things visitors from all over the world like to do in Düsseldorf. On June 28, 2015, about 2,000 athletes will do all of that at record speeds -- swimming, cycling, and running at the Triathlon Düsseldorf. It is the fifth T³ Triathlon for this city on the Rhine and includes the German Championship. The reputation of Triathlon Düsseldorf in the international triathlon arena has been growing constantly as it attracts top athletes, and the event has been selected for the 2017 European Championships. 2008 Olympic Champion Jan Frodeno, who won the Düsseldorf Triathlon in 2013, called the event "a great race with a fantastic audience along the way."
The swimming portion happens in Media Harbor, an area known for its spectacular modern architecture and entertainment, and the race begins right in front of the famous Gehry buildings and ends with swimmers emerging from the water right in front of spectators at the Restaurant Lido. The cycling race is especially rich in breathtaking city and river views, as it takes athletes along the Rhine River and across the two bridges that connect both sides of the city. And the running takes place in the city's historic Old Town, home to the "Longest Bar in the World" (260 bars and restaurants in under a square mile), along the beautiful Rhine River Promenade and the famous Parliament building. An audience of about 40,000 is expected at this year's race.
All three disciplines are offered in two distances for the participating individual and team athletes: the sprint distances (swimming 0.75 km, cycling: 19.5 km, running 5 km), and Olympic distances (swimming: 1.5 km, cycling 39.5 km, running 10 km), according to international standards such as the USA Triathlon and International Triathlon Union's.
Several events complement the race: a 2-day Triathlon Fair with displays of triathlon gear and products on the lawn in front of the Parliament Building, as well as an entertainment program for all ages in the same location. A pasta party for the athletes on the night before the race, June 27, at the Media Harbor is a tradition that will continue this year.
Registration for the race and all other programs is now open. To register, and for more information on Triathlon Düsseldorf, please visit http://www.t3-duesseldorf.de.
For more information on the destination Düsseldorf, please visit http://www.visitduesseldorf.de.
Düsseldorf's tourism office is offering hotel and city specials for stays in 2015. The package, called "Düsseldorf à la Card," can be booked right from the tourism office's website at https://www.duesseldorf-tourismus.de/en/accommodation/hotel-packages/duesseldorf-a-la-card/. Prices start at €49 per night per person based on double-occupancy for a 2-3-star hotel in the city center and at €95 per person for a 4-star hotel. The package includes breakfast, one DüsseldorfCard (free public transportation within city limits plus 30 free or reduced admissions to city attractions), and a city information package. Please check the website for current information.
# # #
Düsseldorf Marketing & Tourism GmbH is the visitors and convention bureau of the city of Düsseldorf. Its responsibilities include tourism and city marketing, as well as conference and meeting marketing, hotel reservation services, fairs and convention services, city event ticket sales and advance ticket reservations. For more information, visit http://www.visitduesseldorf.de.
Düsseldorf Airport, Germany's Next Generation HubTM, offers several non-stop flights from US cities (Atlanta, Chicago, Ft. Myers, Los Angeles, Miami, New York, Newark), as well as convenient connections to many European cities. For more information about the airport, visit http://www.dus.com.