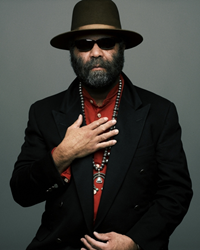 Fairfield, CT (PRWEB) May 07, 2015
The spring will continue heating up and the Fairfield Theatre Company will help by taking enthusiastic audiences to the musical crossroads as they welcome three incredible blues acts to their intimate StageOne venue beginning this May.
Starting this musical heat wave of talent will be the unbelievable Colorado bluesman Otis Taylor on at 7:30 p.m. Thursday, May 14. With Otis Taylor, it's best to expect the unexpected. It's this sort of natural surprise character trait that has helped Taylor become one of the most compelling artists to emerge in recent years.
Whether it's his unique instrumentation (banjo, cello and guitar), the sudden sound of a female vocalist accompanying him on stage, or a seemingly upbeat optimistic song that takes a turn for the forlorn, Taylor's music is an amalgamation of roots styles in the rawest form. Whether discussing heavyweight issues like murder, homelessness, tyranny or injustice, Taylor speaks deeply from the heart and plants a seed in the mind of all those who listen.
His 14th album, "Hey Joe Opus Red Meat," is an album that is meticulously crafted as a single piece of music in 10 parts with "Hey Joe" as its overriding theme. Taylor uses the classic song as inspiration and has truly created a musical masterpiece unlike anything that audiences have ever heard before. To create this masterpiece, Taylor called upon the help of four extraordinary guests to help give this unique album the power and grit it deserves. These guests included the dynamo guitarist Warren Haynes (best known as a member of The Allman Brothers, The Dead and his own band Gov't Mule), acoustic guitarist Bill Nershi from The String Cheese Incident, singer/songwriter/guitarist Langhorne Slim, and guitarist Daniel Sproul who toured with Eddie Van Halen, Warren Haynes and The Black Crowes.
But that's just the beginning of this blues musical heat wave, as the Fairfield Theatre Company is delighted to welcome for the first time to StageOne the incredible blues rising star Ana Popovic on Saturday, May 16.
The award-winning guitar slinger blends smoking electric funk and slide guitar, jazzy instrumentals and tight blues grooves with her soulful, feminine vocals. Add to that mix Popovic's incredible stage presence, and you end up with an irresistible force in the world of contemporary blues music.
Born in Belgrade, Serbia (formerly Yugoslavia), Popovic grew up in a musical-minded family where her father would invite friends over for nightly jam sessions. While being surrounded in this musical atmosphere, Popovic absorbed the world around her like a sponge, picked up the guitar at age 15 and learned from her father's blues and soul record collection.
Since then, Popovic has never looked back, touring the world over with her four-piece band playing major blues, jazz and rock festivals, as well as sharing the stage with legendary blues artists B.B. King, Robert Cray, Buddy Guy, Robert Randolph and Jonny Lang, among others.
Her soon-to-be-released album "BlueRoom!" will invite listeners into the world she grew up in, where amps were stacked with guitars and music magazines were dispersed across the room. "BlueRoom!" is a deeply personal record and an homage to Popovic's family and roots.
And if it couldn't get any hotter, FTC is thrilled once again to welcome back the Massachusetts native, Albert Cummings on at 7:30 p.m. Thursday, May 21.
Breaking every cliché associated with the blues while producing some of the most powerful music of the 21st century comes as natural to Albert Cummings as swinging a hammer while constructing one of his award-winning homes. The Massachusetts native started playing music after learning the banjo at the age of 12. After he encountered the music of Stevie Ray Vaughan in his late teens, it wasn't long till Cummings would make the transition to electric guitar.
It wasn't long after his first guitar performance at a wedding that Cummings had a chance encounter with Vaughan's old band, Double Trouble. This rare chance encounter would soon lead Cummings to record his first solo record, "From the Heart," which featured Cummings fronting the legendary band Double Trouble.
Since then, Cummings' guitar styling soared like a phoenix out of the fire, leading him to share the stage with such legendary acts as B.B. King, Buddy Guy, Johnny Winter, Charlie Musselwhite, John Hammond, Susan Tedeschi, Tommy Castro, Chris Duarte, Bernard Allison, the Neville Brothers, the Fabulous Thunderbirds, Sheryl Crow, and Duke Robillard.
Albert Cummings is a man of his times and the man for the times. As he has done with his innovative homes, he has taken tradition and built his own musical edifice that expresses his thoughts and dreams into a vision that alternately excites and soothes while clearly providing a glimpse of his unlimited future. Don't miss this chance to see this emerging blues talent as he will show an eager blues crowd that the best is still yet to come.
Otis Taylor
Date: Friday, May 14
Doors: 7 p.m.
Show: 7:30 p.m.
Venue: StageOne 70 Sanford St., Fairfield 06824
Tickets: $32 Adv. Members Discount $3
Buy tickets: Box Office: 203.259.1036 or reserve online: http://www.fairfieldtheatre.org
Ana Popovic
Date: Saturday, May 16
Doors: 7 p.m.
Show: 7:30 p.m.
Tickets: $35 Adv. Members Discount $3
Albert Cummings
Date: Thursday, May 21
Door: 7 p.m.
Show: 7:30 p.m.
Venue: StageOne 70 Sanford Street, Fairfield 06824
Tickets: $35 Adv. Members Discount $3
About the company:
Fairfield Theatre Company is a highly-acclaimed non-profit performing arts organization located in the heart of downtown Fairfield, Connecticut. FTC presents nearly 250 performances and concerts each year featuring outstanding national talent on FTC's StageOne in Fairfield, The Klein Auditorium in Bridgeport, and the Norwalk Concert Hall in Norwalk. FTC's intimate 200-seat StageOne concert venue is widely recognized as being one of the best places to see a live performance in the region. FTC is dedicated to providing the highest-quality arts, live entertainment and educational experiences to the communities it serves.