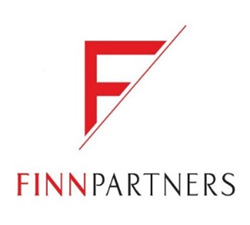 New York, NY (PRWEB) May 08, 2015
In recognition of its spirit of partnership, best place to work culture and commitment to amazing client work, global communications firm Finn Partners received the 2015 SABRE for Midsize Agency of the Year from The Holmes Report. This year's finalists for Midsize Agency of the Year included Ruder Finn, Allison+Partners, Coyne Communications and DKC.
The prestigious win joins a list of accolades the firm has achieved since it was founded three years ago including Best New Agency and Best Agency to Work For in North America from Holmes, as well as PR News' Agency of the Year.
"We are very grateful for this honor from Paul Holmes and The Holmes Report, especially given the strong competition from other firms in our category," said Peter Finn, founding partner, Finn Partners. "I'm proud to share it with our 450 partners throughout the U.S. and Europe as it reflects their commitment to collaboration, game-changing strategic counsel and best in class results."
Each year the Holmes Report names an Agency of the Year in four size categories: Boutique Agency (fees under $10 million); Small Agency (fees between $10 million and $20 million); Midsize Agency (fees between $20 million and $100 million) and Large Agency (fees over $100 million).
About Finn Partners
Finn Partners was launched in late 2011 to realize Peter Finn's vision to create a leading public relations agency dedicated to shaping a bold new future in which innovation and partnership are strong drivers of the brand. Finn Partners is ranked as one of the top ten, and also as one of the fastest growing, independent PR firms in the US. Finn Partners specializes in the full spectrum of public relations services, including digital, social media and creative advertising services. The firm's specialty areas include technology, consumer, travel and lifestyle, education, CSR/Social Impact, arts, health, professional services and public and corporate affairs. In 2013, Finn Partners was named PR News' "Agency of the Year" and "Best Agency to Work For" by the Holmes Report. The firm also won the Holmes Report's "Midsize Agency of the Year" in 2015. Headquartered in New York City, the company has approximately 450 employees, with regional offices in Chicago, Detroit, Fort Lauderdale, Jerusalem, London, Los Angeles, Munich, Nashville, Paris, San Francisco and Washington D.C., and has Asian and additional international capabilities through PROI. Find us at http://www.finnpartners.com and follow us on Twitter @finnpartners.