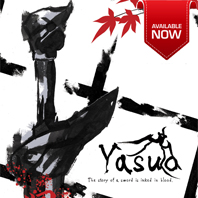 "No other version of this sword exists in mass-produced or factory manufactured versions. So it is exciting and new, but also much more affordable than a custom-made sword replica."
Dallas, GA (PRWEB) May 08, 2015
SwordsAxe.com recently debuted a new katana replica sword by Yasuo. Marketed on their site as the "Yasuo Sword the Unforgiven Steel League Replica of Legends Katana," this beautiful replica sword is designed for display or cosplay -- and is not available anywhere else.
"Not only is this sword brand new to SwordsAxe, but it is also brand new to the market of swords," says Bethe Sargent, the Quality Fulfillment Specialist of SwordsAxe.com. "No other version of this sword exists in mass-produced or factory manufactured versions. So it is exciting and new, but also much more affordable than a custom-made sword replica."
Although it is not custom-made, this Yasuo katana is made with such an eye to detail and quality that is is truly in a League of its own. This Legend of a sword has a genuine hardwood handle, steel welded tang and aluminum pommel. It also features a unique tsuba (guard) in a windswept design that is not available with any other sword. And when the sword is sheathed, the tsuba design matches up perfectly with a similar design on the all-metal saya (scabbard), which has a beautiful blue finish.
Because this Yasuo sword is a collector/cosplay piece, its edge is unsharpened. You can view more of the specs of this sword on the SwordsAxe.com website as well as several other styles of replica swords that are based on popular video games and are Legends in a League of their own!
About SwordsAxe.com
SwordsAxe.com is an online retailer of knives and swords for display, cosplay or hunting, in addition to an impressive selection of other martial arts items or self-defense products such as stun guns and pepper spray. We pride ourselves on finding and offering the finest replicas of the swords and other weapons in your favorite anime series, movies, and video games, so you can display them in your collection or use them for more authentic cosplay. Visit http://www.SwordsAxe.com to find just what you need for more realistic cosplay, home décor, martial arts or self-defense.