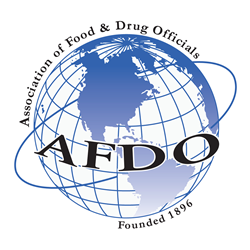 Promoting Public Health Since 1896
Indianapolis, IN (PRWEB) May 11, 2015
A non-profit organization comprised of local, state, and federal government officials and industry leaders will hold its 119th Annual Educational Conference at the Sheraton Indianapolis Hotel at Keystone Crossing from June 20-24, 2015. This year's conference entitled, "In Motion: Science Transforming Policy in Food, Drug, & Medical Device Regulation" is co-sponsored by the U.S. Food and Drug Administration (FDA). The full conference details are available online at http://afdo.org/conference.
Progress, trends and compliance impacting the food and medical arenas will be addressees by delegates from the United States and Canada. Guest speakers include Melinda Plaisier, Associate Commissioner for Regulatory Affairs, FDA; Steven Solomon, DVM, Deputy Associate Commissioner for Regulatory Affairs, FDA; Al Almanza, Deputy Under Secretary for Food Safety, USDA (tentative); and Chad Sheehy, Senior Regulatory Advisor – Inspectorate Program, Health Canada.
AFDO has developed a timely program addressing some of the most pressing concerns. This year's food sessions will discuss Health Fraud, Food Waste and the Issue of Product Date Labeling, Whole Genome Sequencing, Food Trucks, Pros and Cons of Grading Inspections at Retail, and more. There will also be a two-day, concurrent Drugs and Medical Devices Seminar, presenting topics like When Does Your Software Become Regulated, Component Counterfeiting, Interpretation and Application of the New Device Correction Guidance, European Union Enforcement, and an FDA Compliance Question Panel.
Free media registration is available and staff will be on-site to arrange one-on-one interviews with presenters when feasible. Please contact AFDO for further information.
About
The Association of Food and Drug Officials (AFDO), established in 1896, successfully fosters uniformity in the adoption and enforcement of science-based food, drug, medical devices, cosmetics, and product safety laws, rules, and regulations. AFDO and its six regional affiliates provide the mechanism and the forum where regional, national, and international issues are deliberated and resolved to uniformly provide the best public health and consumer protection in the most expeditious and cost effective manner.