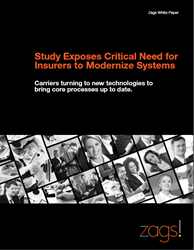 The white paper is a must-read for any insurance decision-makers who want to bring their companies up to date
New York, New York (PRWEB) May 19, 2015
Zags, a provider of software solutions to P&C and group life insurers, has published a white paper warning carriers that aging systems lack the ability to meet the challenges of today's highly competitive marketplace.
Titled "Study Exposes Critical Need for Insurers to Modernize Systems," the document cites findings from an independent survey of IT executives Zags recently commissioned, supported by data from other respected sources, confirming industry-wide operational inefficiencies and missed sales opportunities resulting from outdated systems.
"A key takeaway from this paper is that seven of ten insurers are still using systems 10 to 25 years old for their policy, administration, billing, and claims processing," says Olivier Jaillon, CEO of Zags. "That's a real wake-up call, given that technology has advanced enormously since most of these legacy systems were installed."
Because of this, Jaillon asserts, insurers are missing out on an array of game-changing technologies like business intelligence, connectivity, collaboration, mobile commerce, and many other tools that can boost productivity and profitability throughout the insurance lifecycle.
For example, among the older system shortcomings the white paper exposes is a lack of speed bringing new products to market. Another is an inability to serve newly empowered customers who now research and purchase products in entirely different ways. Legacy systems also have very limited ability to analyze and share information, both internally and externally.
For each of these deficiencies, the white paper discusses new technologies and integrated solutions that offer powerful collaborative tools, fully automated processing and embedded business intelligence, which can perform smart tasks like developing new product features, setting better rates, identifying costly inefficiencies, and reducing fraudulent claims.
Jaillon says the white paper is a must-read for any insurance decision-makers who want to bring their companies up to date, even vault to the front of the pack, in the high-expectation, information-driven world they now compete in.
Download a complimentary copy of the white paper.
About Zags
Zags is a provider of core insurance software committed to delivering on its vision to change the status quo through the unique blend of technology and user experience. Zags designs its products to enable P&C and group life carriers a better way of doing business that goes beyond policy administration, billing and claims. For more information, visit http://www.zags.com.