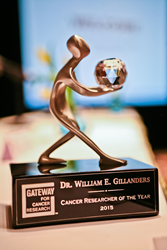 It is cancer research like Dr. Gillanders breast cancer vaccine, which is truly a game changer!
Schaumburg. IL (PRWEB) May 08, 2015
Gateway for Cancer Research honored William E. Gillanders, MD as the 2015 Cancer Researcher of the Year on Tuesday, April 21, 2015 at Gateway for Cancer Research's Annual Meeting held at Embassy Suites Chicago Downtown Lakefront. The award also included a $30,000 Research Grant to fund more breakthrough clinical trials worldwide that help people living with cancer to feel better, live long and conquer cancer today.
Dr. Gillanders research study involves a breast cancer vaccine that targeted a very specific protein only exhibited by malignant cancer breast tissue. By developing this breast cancer vaccine, patients encounter virtually no side-effects, increased quality of life and experiences significantly higher survival rates over longer periods of time.
"It is cancer research like Dr. Gillanders breast cancer vaccine, which is truly a game changer! Not only are we conquering cancer, patient are experiencing a greater quality of life during and after the treatments. Dr. Gillanders' cancer research embodies the principal reason Gateway exists… where it is always and only about the patient." – Teresa Hall Bartels, President, Gateway for Cancer Research.
For more on Gateway for Cancer Research and the innovative, patient-centered cancer research studies it funds, visit http://www.GatewayCR.org.
About Gateway for Cancer Research℠
Gateway for Cancer Research is a nonprofit 501(c)(3) organization committed to funding innovative cancer research studies that help today's cancer patients feel better, live longer and conquer cancer TODAY!. Thanks to generous underwriting by Cancer Treatment Centers of America®, 99 cents of every dollar Gateway receives directly funds phase I and phase II cancer clinical trials at leading research institutions across the country and abroad. Since 1991 Gateway has supported more than 120 clinical trials and funded millions in leading-edge research, including blending the best of conventional, and complementary and alternative therapies. Get involved today by visiting GatewayCR.org, like us on Facebook at facebook.com/demandcures and join the conversation on Twitter @DemandCures. #BeAGateway.