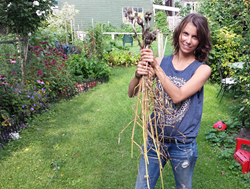 Toronto, ON (PRWEB) May 11, 2015
Tuesday, May 12, 2015, marks the launch of the new YouTube channel Dirty Girl, featuring Erin Spencer. Dirty Girl is an edgy factual web series that explores growing food in the heart of the city. Every Tuesday, weekly webisodes will follow hip, urban farmer Erin on her quest for vegetable success through the course of a growing season. From dirt to harvest, this series explores a new generation taking control of their food in an urban environment. Erin meets a bevy of experts including celebrity chefs, rock stars, local growers, and professional farmers all with their own tips, techniques and superstitions. This ain't your grandmother's gardening show!
"This is the story of my garden in the city," said Erin Spencer, star of Dirty Girl. "I want to show my son where his food actually comes from, and it's not the grocery store. Oh did I mention, I'm no pro, so this is going to be interesting!"
"Erin is part of a new generation who live in the city, but want to reclaim some control over their food," says Executive Producer, Marc Simard. "This series has something for everyone because food is one of the few universal things that truly unite us all. It's about getting back to nature, getting dirty, and eating well in a fun and entertaining way.
Erin's worn many hats in her life: rock band manager, food stylist, and blogger. But as a new mom, her priorities have changed. In a world where food safety is questionable, Erin is determined to take control over her own food for herself and her family. In the city, where most kids never see how a vegetable is grown, Erin wants to make sure her son knows where his food actually comes from.
Dirty Girl can be found right here:
https://www.youtube.com/channel/UCplOIKSUcCNoEOwVE8-m4Tw
Twitter: https://twitter.com/DirtyGirlWeb
Facebook: https://www.facebook.com/dirtygirltoronto
Instagram: https://instagram.com/dirtygirlwebseries
Killer Coyote Flicks is a Toronto based production company specializing in broadcast and digital content.
http://www.killercoyoteflicks.com