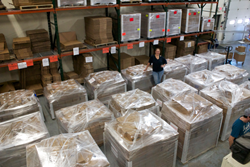 "Bark Madness is a great event that allows us to interact with our fans and support animal rescue as well. It's a win-win for everybody!"~Adrienne B
Essex Jct., Vermont (PRWEB) May 09, 2015
Bark Madness Event Gives Away $90,000 in Pet Supplements
(Essex Jct., VT – May 7, 2015)- Pet Naturals® of Vermont and VetriScience® Laboratories teamed up to host the second annual Bark Madness Breed Challenge online, awarding 18 rescues a total of $90,000 in pet nutritional supplements.
The round of 32 began March 23. As the event progressed, online voters had the opportunity to nominate their favorite rescues to receive special prizes. Over 100 rescues participated. In the end, the Boxer took home the title.
With 3,000 Facebook event shares and over 20,000 votes casted, Pet Naturals® was able to award 18 different rescue organizations a piece of the contest pie and continue its goal of helping pets live healthier lives.
According to The American Society for the Prevention of Cruelty to Animals (ASPCA) approximately 3.9 million dogs nationwide enter shelters each year. Breed-specific rescues have an important role to play in housing these companion animals.
VetriScience® and Pet Naturals® are proud to honor that work by supporting the health of many rescue animals with the Bark Madness Event.
VetriScience® Laboratories and Pet Naturals® of Vermont are dedicated to helping pets live healthier lives. Over 40 years of product development and commitment to animal health allow us to design the most innovative supplement formulas available and lead the market with exclusive ingredients. To learn more, visit us at http://www.vetriscience.com and http://www.petnaturals.com.