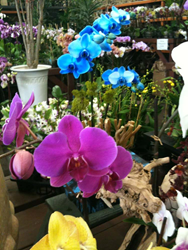 The meaning and symbolism of the delicate, elegant and graceful orchid has evolved to represents love, luxury, refined beauty and charm.
Los Angeles, California (PRWEB) May 07, 2015
California Flower Mall Choi Orchids blooms with wholesale orchids and green plants for Mother's Day flower gifts. Choi Orchids nursery at 817 San Pedro Street offers exquisite orchids, exotic tropicals, green plants, bonsai miniatures, drought tolerant succulents and colorful cacti that cater to Mother's Day celebrants seeking longer lasting floral gifts for Moms.
A Society of American Florists Mother's Day consumer floral gift poll shows celebrants pick more than pretty petals for their Mom's - outdoor plants, and indoor flowering or green plants are also popular floral gifts. Fresh flowers reigned as a the favorite gift for Moms by 69% of respondents – while 33% said they gave outdoor plants, 26% chose flowering house plants and 14% green house plants, the SAF purchase survey shows.
Chang Choi, owner of Choi's Orchids, a lush 5,000 square foot wholesale plant nursery and plant décor supplier says he sells a wide variety of potted indoor and outdoor plants including the more exotic species of bromeliads and anthuriums, but, his best sellers are orchids. "Phalaenopsis (pronounced: Fayl-eh-NOP-sis) also known as moth orchids are the most popular orchid we sell. They are hardy and easy to care for," Choi says.
Herminio Medina, owner of Mercado's Fresh Flowers at Alvarado and Beverly Streets says he's a regular wholesale patron of Choi Orchids because "They're helpful, friendly and have the best quality, products and supplies at great prices."
In the 1800's orchids were available only to the very wealthy or royalty. At that time an orchid obsession that has lasted for centuries was the born. "The craze, dubbed "orchidelerium," produced prices in the thousands of dollars. Special hunters were employed to track down exotic varieties in the wild and bring them to collectors, keen to display them in ornate, private greenhouses," according to Tom Mirenda, an orchid specialist at the Smithsonian. "Orchids have a special appeal to the human psyche. People are fond of orchids because when someone looks at an orchid, it looks back at you. They seem to have a face like a human," Mirenda says.
The meaning and symbolism of the delicate, elegant and graceful orchid has evolved to represents love, luxury, refined beauty and charm. There are 25,000 species of orchids. Some research even dates some species of orchid to around 120 million years ago, before the continents split into their current form.
About California Flower Mall
The California Flower Mall, located at 825 San Pedro Street, is one of the largest DIY wholesale flower marts in Downtown LA's eight block Flower District trade community. It is the largest concentration of wholesale flower markets and flower businesses in the U.S. It is located in the 100 block LA Fashion District Business Improvement District.