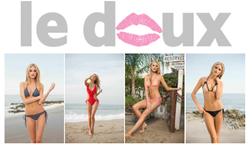 Los Angeles, CA (PRWEB) May 08, 2015
Introducing Le Doux Swimwear, an online swimwear retailer providing the perfect party swimsuit for every body. Inspired by the desert heat and Vegas party scene, each suit is handcrafted and embellished with Swarovski crystals, giving the suit an extra sparkle.
The suits come in three different cuts, Brazilian, World Traveler, and American, each varying in coverage levels. Brazilian, being the most revealing, World Traveler with slightly more coverage, and American being the most conservative, there is a bottom perfect for every body type and comfort level. The site also offers the option to shop by fit or body type making it even easier to find the perfect match,
Le Doux Swimwear are made in the USA using their own custom print made in Los Angeles with the finest fabrics, while the jewels are added by hand. Some suits have over 7,000 jewels added making it a delicate, one of a kind piece. Le Doux swimwear is available on http://www.ledouxswimwear.com or in the Wynn Hotel in Las Vegas. The suits range from $140-$400 per piece. Complete sets range from $400 to $600.
Le Doux has the perfect swimsuits to wear to pool parties, the beach, or on a tropical vacation to extenuate the body and catch the eye. The patterns make them unique, and the Swarovski crystals add the extra touch to making a Le Doux suit a summer staple.
###