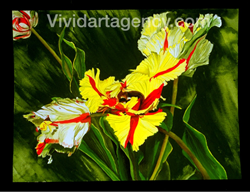 As an admirer of Judith Lynn's art for years, it became clear to me that her licensing agency was not working hard enough to effectively capture her unique brand"
(PRWEB) May 07, 2015
Newly formed licensing agency, Vivid Art Agency, LLC, announced today that it has signed fine artist Judith Lynn as its first artist for representation.
Based out of Chicago, IL, this new, boutique, licensing company offers distinctive brand and strategic planning, product development and marketing for artists and properties. Looking to sign only two properties in its first year, Vivid Art Agency has signed Judith Lynn, a scenic fine artist who captures lush nature, tropical foliage, fish, rare butterflies, insects and other creatures on canvas.
Vivid Art Agency will be representing Judith Lynn for licensing opportunities at the Licensing Expo, June 9-11, booth H16. There will be a drawing at the booth Thursday, June 11, of the show for a fine art giclee print named Butter Lace.
"As an admirer of Judith Lynn's art for years, it became clear to me that her licensing agency was not working hard enough to effectively capture her unique brand," said president and founder of Vivid Art Agency, Sue Einersen. "I decided to start the agency to give artists like Judith the kind of attention they need to transition the beauty of their art into everyday life."
Judith Lynn was born in Chicago and raised in Los Angeles. Growing up surrounded by the lush semi-tropical foliage of California, she developed a great love for flora and fauna. Lynn toured the world as an international opera singer, and it was while in South America that her passion for the arts turned towards painting. Influenced by her close friend and artist, Frances Bull, she created her first body of work and was accepted by the first gallery to which it was offered, La Galeria Centro de Arte Euroamericano.
"I was immediately impressed by the intelligence, charm and enthusiasm of the head of the Vivid Art Agency, Sue Einersen," said Judith Lynn. "She not only enjoys what she does, but brings this great enthusiasm to her work. It's contagious and inspiring."
"Judith's classic images inspired by the beauty of nature impassion my own love of fine art and the desire to share it through licensing," Einersen added.