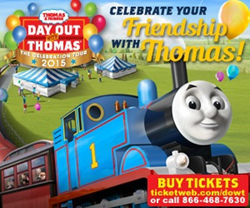 "Thomas the Tank Engine and fun in the sun about in our Kids Summer Getaway Experience in Oneida County.
Utica, New York (PRWEB) May 08, 2015
Oneida County Convention and Visitor's Bureau announces "Day Out with Thomas™" as the premier event for its Kids Getaway Experience in 2015. Parents and children have a unique opportunity to enjoy a ride on the Adirondack Scenic Railroad with Thomas the Tank Engine™ and meet Sir Topham Hatt™ at historic Union Station in Utica, New York. "Day Out with Thomas™" tickets are available for two weekends in June, including June 19, 20, 21 and 26, 27 and 28, and run from $20-$24.
"Day Out with Thomas™" features a multitude of activities for children including Steve Gryb's Percussion Petting Zoo, an interactive music and dance experience; magic performances; face painting; a story-telling tent; the Imagination Station; Bubble Beach; a vintage fire and police vehicle display; a bounce house; pictures with Thomas and a souvenir shop. Rich with history and notable architecture, Union Station, which is listed on the National Register of Historic Places, is the perfect backdrop for this event and the largest venue for "Day Out with Thomas™" in New York State. Union Station is also the perfect setting for the educational component of "Day Out with Thomas™". Children will have the opportunity to learn about train components, train safety and history of Union Station and the Adirondack Scenic Railroad.
"Each year, we offer many activities for vacationing families who are hoping to enjoy a getaway in a drivable distance on a budget," Kelly Blazosky, president, Oneida County Tourism, said. "This year, however, Oneida County is home to a unique destination event. "Day Out with Thomas™" is sure to be a catalyst for parents or grandparents who want a mini-vacation to visit and enjoy Oneida County. We encourage families with young children to come, explore and experience Oneida County and its multitude of activities during our Kids Getaway Experience."
The 2015 Kids Getaway Experience also includes a visit to Sylvan Beach in Verona, New York. After spending the day at Union Station, relax at Sylvan Beach and enjoy its nostalgic flavor enhanced by a spectacular sunset that rivals any on Florida's west coast. The shallow shore line of Oneida Lake is perfect for young children and the sandy beaches provide ample opportunity for sunbathing, sand castle building and swimming. While there, children can enjoy Sylvan Beach's vintage amusement park, which features rides, games, cotton candy and other attractions reminiscent of days past.
The third attraction in this experience includes a visit to Enchanted Forest Water Safari, located in New York's Adirondack State Park, only a 50 minute drive from downtown Utica. Enjoy the scenic ride and be surrounded by nature at its finest at New York State's largest water theme park. With more than 50 rides, including 32 water rides, this attraction holds strong appeal to children and the inner child in all of us. Tickets purchased online are $29.95 for adults and children ages 12 and over and $26.96 for children 3-11. Children 2 and under are free.
"Thomas the Tank Engine™ and fun in the sun abound in our 2015 Kids Getaway Experience," Blazosky continued. For tickets and more information about "Day Out with Thomas™," visit adirondackrr.com or call 800-819-2291. For tickets to Enchanted Forest Water Safari, visit http://www.watersafari.com. For information about the 2015 Kids Getaway Experience itinerary and specific travel suggestions, contact Oneida County Tourism at 888-999-6560 or visit http://www.oneidacountytourism.com.