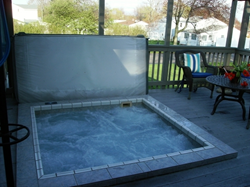 Get Hot without spending a lot.
Wethersfield, Conn. (PRWEB) May 13, 2015
Custom Built Spas recently completed an entire website makeover, making the site more user friendly. The website is now easier to explore for people who are interested in building their own custom spa, hot tub, swim spa, or exercise pool. The site is now featuring a new video DVD by Navy veteran and Connecticut contractor Gene Trumbull, also the videos' producer. Trumbull's books and video will inspire those who want to save money by making their own amenities over buying a manufactured unit.
Builders can now bundle Trumbull's previous work on the Custom Built Spas website or Amazon, to include his new book, How To Build Your Own Custom Spa, Hot Tub, Swim Spa or Exercise Pool, with his other DIY books. Trumbull's hot tub book provides a step by step guide to building a beautiful and quality spa or hot tub for less money. The new package now comes with all five of Trumbull's books on a cd, as well as a DVD to help walk builders through the process.
Spas are seen as treasured and beneficial commodities, however the high expense can make them unaffordable for many potential buyers. Many of those buyers are people in need of such amenities for a variety of health reasons. The high cost inspired Trumbull to change the way that people purchase hot tubs and swim spas by showing them that they can save money by building their own instead of buying a unit.
Custom Built Spas provides personal coaching for their projects at no additional cost. In just a few short weeks a builder can complete a beautiful hot tub that mirrors the quality and appearance of many commercial units, but at a fraction of the cost. "DIY hot tub projects like this are surprisingly simple and can add a lot of value to your home," said Trumbull, "For over 15 years now I've helped people in all types of professions build spas and hot tubs. Savings of 80% or more over commercially produced spa and hot tub pricing is very common for a majority of my builders."
Trumbull goes on to say, "No doubt our project manuals and our new video on Hot Tub and Swim Spa building are getting the attention of do-it-yourselfers and handymen around the country. Building a spa or hot tub is not difficult when you follow a proven step by step process. Plus, our finished hot tubs and swim spas are permanent installations that can add equity value to most any home."
Trumbull's publications have become acclaimed internet favorites on spa, hot tub, and swim spa DIY building projects. Additionally, articles on his project manuals have appeared on several prominent "handyman" websites, and he's been interviewed by industry magazines like, Pool & Spa News. More manual details and past customer project photos are available at Custom Built Spas newly remodeled website.
"Trumbull, an experienced hot tub builder and owner of Custom Built Spas, is also one of the nation's leading authorities on spa, hot tub and swim spa building," states Zipporah Porton of Pool and Spa News. "He has written and published a series of DIY (Do-It-Yourself), spa, hot tub and swim spa project manuals as well as recently producing and releasing a comprehensive video DVD showing hot tub enthusiasts the insider secrets to huge savings on these much desired luxury items."
For more information or to schedule an interview: Contact Gene Trumbull @ 860-571-8440
Visit: http://www.custombuiltspas.com
Email: gene(at)custombuiltspas(dot)com
Custom Built Spas - Video
About Custom Built Spas
Custom Built Spas helps people build their own spa, hot tub, swim spa, or exercise pool. Navy veteran, Connecticut contractor, and creator Gene Trumbull provides builders with a step by step guide on how to build and save money by making their own amenities as opposed to buying a unit. More information, and Trumbull's acclaimed DIY building books, can be found at http://www.custombuiltspas.com.