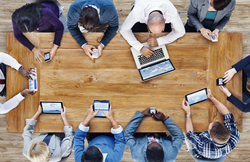 IMEX is a vital event industry conference, and to be a part of this shortlist reinforces our position in this space and confirms that there continues to be an evolving need for slide sharing technology," commented Fathi Hakam, CEO & President, Lintelus
Mission Viejo, CA (PRWEB) May 12, 2015
Lintelus, a slide sharing solution provider, has been chosen as a finalist amongst a handful of finalists for a tech startup competition organized by Event Manager Blog and IMEX, to be held in Frankfurt Germany at IMEX, May 19-21. IMEX is a considered the prominent worldwide conference for the incentive travel, meetings and events industry.
Lintelus will pitch their product in a head to head competition on Tuesday, May 19 at 4:30 at IMEX in Frankfurt Germany. "Startuppers" that are short-listed will have two minutes to pitch their idea. The prize includes a space to exhibit in the Tech Pavilion at IMEX 2016, a feature in the IMEX blog, an interview for IMEXlive, IMEX Daily Paper as well as a review and feature on Event Manager Blog.
Last April, Lintelus launched an interactive slide sharing solution in response to an unmet need in the presentation space. Far too many people attend meeting and events, distracted with their device or straining to view slides from the back of the room. Using their own smartphone, tablet or laptop, Lintelus allows attendees to instantly download and view the presentation, take and save digital notes directly on the slides, ask questions of the presenter, privately or publicly, network with other attendees and respond to polls, all in real time. Lintelus magnifies the impact of the presentation by increasing audience interaction, enhancing retention, and includes analytics including how many took notes and responded to polls.
"We are honored to be selected as a finalist for the IMEX / EM Blog Event Start-Up Competition," commented Fathi Hakam, CEO and President of Lintelus Inc. "IMEX is a vital event industry conference, and to be a part of this shortlist reinforces our position in this space and confirms that there continues to be an evolving need for slide sharing technology."
For more information on how to schedule a meeting with us at IMEX or request a demo, please contact us at info(at)lintelus(dot)com or visit our website at http://www.lintelus.com.
About Lintelus Inc.
Lintelus is changing the way presentations are experienced with interactive features including slide sharing, digital note taking, live polling and social media. All features are designed to energize slide presentations, engage participants and personalize the event in a collaborative multi-screen "green meeting" environment. For more information or for a live demo, please contact us at info(at)lintelus(dot)com.
About IMEX
IMEX in Frankfurt is the landmark exhibition for professionals working within the incentive travel, meetings and events industry. Run by meetings professionals for meetings professionals, IMEX buzzes with activity as global decision makers meet with 3,500 suppliers for 3 days of great business. Its a place for inspiring new ideas, networking with the industry's best and getting new perspectives on the latest thinking.
For media inquiries, contact: Dina Scaglione, Director of Marketing 949.910.9401