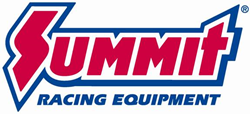 Tallmadge, OH (PRWEB) May 11, 2015
Flowtech has been very busy cranking out new products, especially for late model truck and musclecar applications. Summit Racing now carries these new Flowtech headers:
Headers for Late Model Vehicles
These precision-engineered headers are made from .049 inch cold-rolled, flash-controlled tubing and feature Flowtech's mandrel-formed Power Plenum collector to improve exhaust flow. The flanges are precisely fitted and finished with durable leak-proof, O-ringed port seals. Most Flowtech headers are available in blockhugger and shorty styles in a black painted or silver ceramic coated finish. Mounting hardware and premium gaskets are included.
Available Applications: GM LS, Chrysler 5.7L/6.4L Hemi, Ford 4.6L/5.4L Modular, and Jeep JK V6
Rams Horn Exhaust Manifolds for Small Block Chevy
Flowtech Rams Horn Exhaust Manifolds are ideal for musclecar and Corvette builds as well as street rods. The cast iron manifolds feature a block-hugging design for maximum strength and engine clearance. The manifolds have 1 5/8 inch diameter primaries with smooth transitions for increased exhaust flow, which means improved performance and throttle response. Thick header flange pads ensure a strong, leak-free seal.
The Rams Horn Exhaust Manifolds are available with a natural, black painted, silver ceramic, or chrome plated finish. They fit 1955-2004 Gen 1 small block Chevy.
Lakester Street Rod Headers
These Lakester Street Rod headers are perfect for vintage lakes-style hot rods. They feature high-flow, mandrel-bent tubing with consistent diameters for smooth flow and increased exhaust velocity. The primary tubes have smooth transitions to optimize performance and throttle response, and to broaden the torque curve. The long-transition velocity collector connects to an undercar exhaust, and the block-off plate can be removed for maximum sound output. The headers have machined 3/8 inch flanges for a strong, leak-free seal. They come with premium aluminum header gaskets and installation hardware.
Available Applications: Small and big block Chevy, small block Ford
Shorty Smog Headers for Jeep 4.0L
Flowtech's emissions-friendly Shorty Smog Headers are ideal replacements for a 4.0L's crack-prone exhaust manifold. They feature 1 5/8 inch primaries and fit the factory exhaust system and emissions gear. The headers are made from durable 16-gauge tubing, feature extra-thick 3/8 inch flanges for a leak-free seal, and come with premium gaskets and hardware. They fit 1991-99 Jeep Wrangler and Cherokee.
Summit Racing Equipment
http://www.SummitRacing.com
1-800-230-3030